~*~
This article is written by Debbie Davis
I like to keep a number of painted backgrounds at the ready in my journal books for when I don't have a lot of time but am feeling the need to journal.  One of my favorite journals is a vintage ledger binder that I picked up from an antique store.  The ledger pages had never been used.  I sometimes keep a few of the pages handy when I'm working on other projects and use any leftover paint on them to create a background.
I had just returned from a beach vacation and was starting to think about all that needed to be done at home and work, but what I really wanted to do was journal.  I didn't do any art or journaling on the trip and was really missing it.  Since I didn't have much time, I used a previously created background.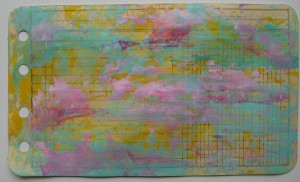 This background was made by randomly scraping pink, yellow and blue/green paints that had been loosely mixed with some white fluid acrylic paint onto the ledger journal page using an old store card.  The colors were so calming and reminded me of the beach.  I then remembered a vintage photo that I had been wanting to use in my journal for a long time.
I copied and pasted the photo into a Word document and resized it so that it would fit on the journal page.  I printed, cut out and collaged the photo, along with two little beach cabanas that I had cut out of scrapbook paper, onto the page.  I outlined the photo and cabanas with a Stabilo pencil and lightly went over the pencil with a wet brush.
Next I wrote some words onto the page with the Stabilo pencil.  The black penciled words were standing out more than I wanted so I took a white gel pen and scribbled over the words to tone them down a bit and give them a washed out look.  This page was so quick and easy, yet I still felt that sense of contentment that I usually feel after getting in some artful playtime.
~*~*~*~*~*~*~*~*~*~*~*~*~*~*~*~*~*~*~*~*~*~*~*~*~*~*~*~*~*~
Debbie Davis is a mixed media artist living in Morton, Illinois.   She finds creating art to be a wonderful stress reliever and plays in the paint and other mixed media mediums every chance she gets.
You can find more of Debbie's art and techniques by visiting her In Art Therapy blog at inarttherapy.wordpress.com
~*~*~*~*~*~*~*~*~*~*~*~*~*~*~*~*~*~*~*~*~*~*~*~*~*~*~*~*~*~
.

.