~*~
This article was written by Madeline Faiella
Seth Apter is a mixed media artist who seems to know what it's all about.  I was able to tie down this busy man long enough for this interview.  I think you will find it interesting, inspiring and fun to read.
MF:  How did you become to like mixed media art?
SA:  There is both a freedom and a challenge in working in mixed media that have always been very compelling to me. The freedom lies in the fact that there is literally no limit to the materials and techniques that can be used. The challenge lies in the same place in that the endless choices need to somehow be self-limited, blended, and ultimately transformed into a cohesive piece of art. I find the creative possibilities in this process endlessly exhilarating.
MF:  What is your definition of a true mixed media piece?
SA:  The technical definition of mixed media art is simply a work that is created using more than one media. For me there is a deeper, more complex nature to mixed media that is quite challenging to put into words. I always have trouble adequately describing it to others. There is a story and a sense of history that can found in the layers of materials that make up a mixed media piece. There is a process of concealing and revealing that goes into the work that adds elements of mystery, energy, and excitement. Every layer, even ones that are not visible in the end, is equally important and integral to the final piece.

MF:  What is your favorite part of working?
SA:  The process of making something from nothing is what it is all about for me. I absolutely love the hunt, whether for found objects, art materials or new techniques. I love the initial moments when an idea comes and a sense of excitement and possibility is sparked. Finding other elements to add to the work and dealing with the challenge of making all the layers and disparate components seamlessly blend is always an exciting challenge. And finally being able to step back and see the results of the entire process complete is thoroughly satisfying.
MF:  How do you set up your studio for working in a nurturing / empowering environment?
SA:  My studio is as much an art installation as it is a workspace. I surround myself with my many collections and finds, artwork of my own and other artists, creative objects that I have been gifted, and an expansive inspiration-wall filled with stuff that both has personal meaning and keeps me inspired.
MF:  How long have you been an artist?
SA:  I came to art relatively later in life, beginning in 2000. At some point since that time, I began to label myself an artist rather than somebody who is simply playing around and making things.
MF: What influences do you have?
SA: I have endless influences including the environment and energy of NYC where I live as well as a large group of artists whose work can be found anywhere from museums to blogs and from galleries to the walls of abandoned buildings.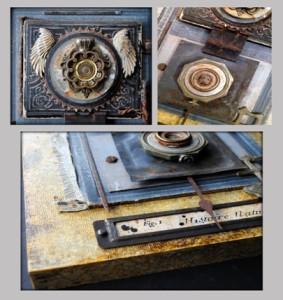 MF:  How do you engage with your audience?
SA:   I feel strongly about connecting to and engaging with people in terms of my art. I have an online presence that allows me to do this daily via my website and blog, as well as through Facebook, Twitter and Instagram. Not only do I share finished artwork, but I share works in progress, behind the scenes glances, photos from my workshops, my experiences as an artist living in NYC and the artwork of the many other artists I admire. Those who follow me online know that I do my very best to respond to every comment and email I receive. I am also fortunate to be able to connect with many people in person through my frequent workshops. I fully believe that without the community that has resulted from these connections, I would not be a working artist today.
MF:  How do you keep your authenticity while working?
SA:  I do my best to remember that regardless of the nature and purpose of any particular project (be it a journal page, an artwork for exhibition or submission, or a blog post), ultimately I am creating both from and for myself. What I do has to be an expression of me or it is not worth doing.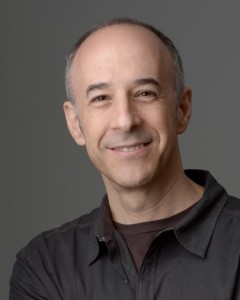 MF: How long did it take for you to develop your voice as a mixed media artist?
SA: I feel that while I have a strong point of view and have been told that I have a recognizable style, I am still and will forever be developing my voice as a mixed media artist.
Thank you Seth
Seth Apter is a mixed media artist, instructor, author and designer from New York City. His artwork has been shown in numerous exhibitions and published in multiple books and magazines. He has two books (The Pulse of Mixed Media and The Mixed-Media Artist) and two DVDs (Easy Mixed Media Surface Techniques and Easy Mixed Media Techniques for the Art Journal) released by North Light. His workshops have been held throughout the United States, Mexico and Australia. He is a designer member of CHA, a blogger for Spellbinders Paper Arts, a stencil designer for StencilGirl Products, and has an ongoing column called The Creative Pulse in Cloth, Paper, Scissors magazine. You can see more of his work on his blog at thealteredpage.blogspot.com and on his website www.sethapter.com.
~*~*~*~*~*~*~*~*~*~*~*~*~*~*~*~*~*~*~*~*~*~*~*~*~
Madeline Faiella is the owner of Madeline Faiella Designs, LLC.    She works traditionally and digitally in Photoshop and Adobe Illustrator.  Her work is featured on home décor, electronic devices, stationary, fabric and more.   She is licensed, published, appeared on TV and radio and has written continuing columns for newsletters.  She also has a line of non-toxic acrylic paint "Art Jacket"   Her art education hails from The School of Visual Arts in Manhattan and the many years she absorbed during her years of travel around the world.Her work is available for purchase and for licensing. See more her work at www.madelinefaiella.com
~*~*~*~*~*~*~*~*~*~*~*~*~*~*~*~*~*~*~*~*~*~*~*~*~
.

.