~*~
This article was written by Melanie Statnick
When I go to home décor and craft stores I see an abundance of items for the home that I can create myself with more flare and personal touch. Decor boxes, wall art, candle holders, garden and décor pillows. Sure not all of us can work a sewing machine, believe me it took me a few times to figure out what I learned in Home Studies from high school and that was many moons ago. Thank goodness for instruction books and DVD's that come with most machines today. I still managed to pop off a needle, (don't ask).
I bought a sheets of burlap and canvas squares. These can be found in the scrapbook paper aisle. To make a small pillow you'll need one of each or 2 of each depending which fabric you'll want to play with. I used one sheet of each to make one pillow. The art will be on the canvas side.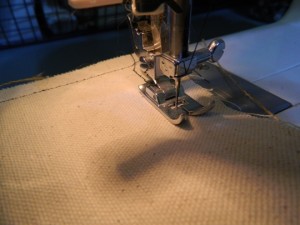 I used a stencil on this pillow. Lay your stencil out in the section you want and I used ink spray for this in pink and blue which gave a purple affect. I thought the speckled boarder from the spray gave it a little character. I also used a light glitter mist over the stenciled design.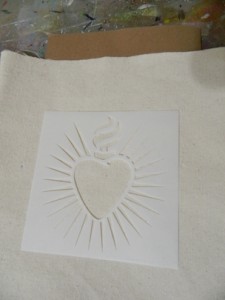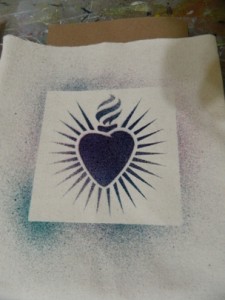 If you do not like the fine mist around the design because it looks messy then cover your edges with scrap paper, but what is Art if not messy?  I then used fabric glue then added a boarder of lace ribbon to fame the design and glued some buttons on the corners. Let dry for 24 hours before adding the stuffing to be sure it's ready. I sprayed it with a fabric sealer after to avoid any running of ink, should I need to spot clean. Happy Creating!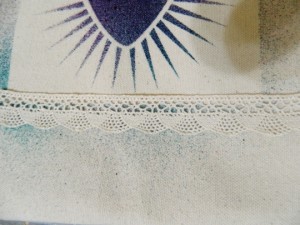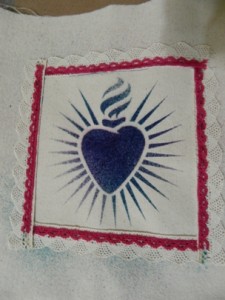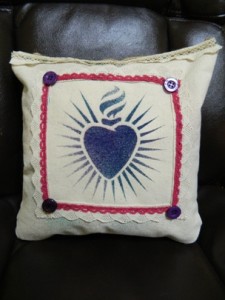 ~*~*~*~*~*~*~*~*~*~*~*~*~*~*~*~*~*~*~*~*~*~*~*~*~
Artist Melanie Statnick is a Published Artist/Writer out of North Carolina who writes and creates art daily from her private studio. Melanie is also the host of her own video production The Brush & Pen visit her website at www.melaniestatnickart.com and sign up for a monthly Newsletter.
~*~*~*~*~*~*~*~*~*~*~*~*~*~*~*~*~*~*~*~*~*~*~*~*~
.

.