This article was written by Martice Smith II
Funky Calligraphy: Adventures in Hand-Lettering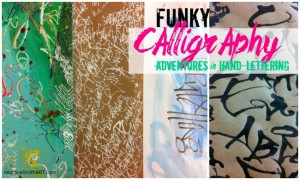 My graffiti-style lettering is a fun mixture of bold, expressive calligraphy with a whimsical, urban vibe. It's what makes my handwriting so recognizable and unique.
Sometimes, I prefer my letters to look imperfect and scribbly. It's important to me that my spirit, at the moment, transcends into my artistry.
Today, I'll be your guide for a quick adventure on finding your "voice" within your hand-writing.
So, where do I find inspiration? Literally, everywhere!
Look around you…the world is your oyster. Take an adventure!
I challenge you to look at your surroundings differently. Here are a few places of inspiration I like to start with:
graffiti murals / graffiti on trains
billboards
food packaging
tribal symbols and jewelry
kids' writing
Expand your powers of observation. Photograph interesting walls and surfaces, print them out and add to a visual journal. Doors, facades, an vintage signage are my favorite things to look for!
Flip through architecture catalogs and fashion magazines for contemporary design inspiration.
Look at brand packaging. Notice how the typefaces exude various emotions for you.
Now that you've been inspired, let's play!
Here are some basic supplies to get started with lettering: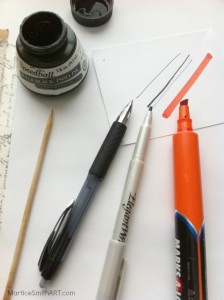 Speedball's Super Black India Ink (waterproof, free flowing, and contains a deep opaque pigment. It's one of my favorites!)
skewer or toothpick
assortment of markers and fine point pens (include a chisel-tip marker / calligraphy pen)
paper
First, grab your biggest chisel-tip marker or calligraphy pen. Write large letterforms and work randomly across the page.
Next, use a pen with a smaller point. Try writing a phrase in a circular shape. Rotate the page for smoother writing. Allow the words to look like a series of marks. It's OK to leave some words illegible. By layering letters and strokes you create interesting effects and backgrounds.
Exaggerate letterforms and lines – make them your own! Vary their size by alternating your thicker, chisel-tip markers with fine point pens.
Finally, draw scribbly flourishes with a toothpick or skewer dipped in India ink. (Do this part last to allow the ink to dry without being disturbed.) Set aside to dry for a few minutes. Spray varnish to seal the surface.
Your creative design potential is limitless if you think beyond traditional calligraphy methods. Take a playful approach, forget about the "rules" and allow your imagination to soar!
Think about this:
What kinds of fonts make you feel happy? Do they happen to be skinny, thick, bold or a mixture of all three?
What about fonts that help a product look timeless and fresh?
Analyze the differences of vintage style vs. a more kid-friendly look. What would they look like combined? Try it!
Remember, the key to developing your own style is to allow yourself to play and experiment.
JOIN the fun!
If you want to learn more about expressive, free-style hand lettering, be sure to sign up for Martice's newsletter. Be the first to know about her upcoming mini-workshops, featuring in-depth handwriting techniques.
~*~*~*~*~*~*~*~*~*~*~*~*~*~*~*~*~*~*~*~*~*~*~*~*~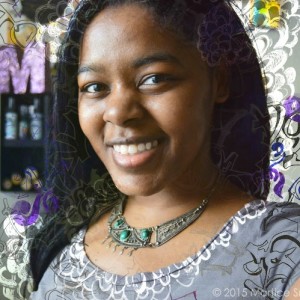 Martice Smith II is creative director of Martice Smith II – Illustration & Design Studio, based in Missouri and owner of Uneek Art Boutique. She established herself as a freelance Illustrator and graphic designer after receiving her Bachelor of Arts Degree. Specializing in mixed-media illustrations, Martice's love for fashion, typography and wildlife are infused with a combination of traditional and digital art techniques.
~*~*~*~*~*~*~*~*~*~*~*~*~*~*~*~*~*~*~*~*~*~*~*~*~
.

.