~*~
This article was written by Martice Smith II
Looking to add a little extra oomph and intense color to your mixed-media creations? If so, you might want to try out these awesome, easy to use product by Imagine® Crafts. They're called Radiant Neon Amplify! Writers and I recently had the opportunity to play with them.
I received eight beautifully vibrant, colors: Electric Yellow, Electric Coral, Electric Orange, Electric Blue, Electric Purple, Electric Green, Black, and White.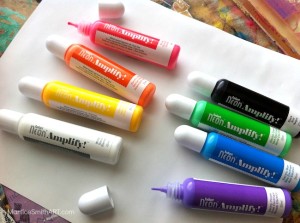 These paints are so versatile and I had such a great time playing with them. I always like to push the boundaries of an art supply, just to see how much I can do with it. So, today, I'm sharing a few techniques, anyone can do – no skill-level required!
Here are some of the ways I played with the new Radiant Neon Amplify! Writers:
1. I used them on my 8×10 Gelli Arts – Gel Printing Plate. I wrote in scribbly letters to create a graffiti look.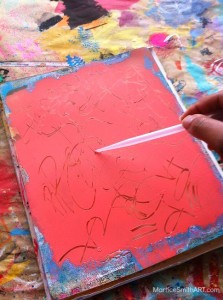 2. Drew simple shapes, straight from the paint bottle + introduced another color. Use the paints like watercolors!
These are water-based pigment inks, meaning, I can water them down a bit. Doing this allowed me to paint with them as if they were watercolors. However, they did appear to mimic the look of soft and chalky pastels rather than radiant, neon colors. To get the neon effect, just keep adding layers of the same paint color.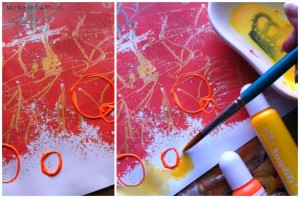 3. Use them with a stencil + a foam pouncer to add a textured border along the edge of a page in my art journal.
4. Add dimensional texture.
The instructions say to shake bottle vigorously before each use. One thing I discovered while shaking the product was, after I removed the cap, the paint would ooze out of the nozzle before I was ready to paint! Ooops! Oh well…that glob of paint was applied in another area.
This means I had to be extra careful when adding smaller details, like dots.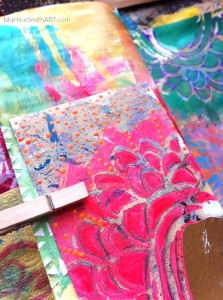 Other facts to know about the Radiant Neon Amplify! Writers:
Drying time: Dries within minutes, depending on how much paint you squeeze out.
Dimensionality: 
I like to retain as much dimensionality as possible. After drying, I was surprised to see how well these Radiant Neons held up! My art journal is packed with many different material and I was worried that it would flatten out over time. I was glad to see that that hasn't happened!
Paints are flexible when dry – they will not crack due to heavy handling.
Texture:
Very smooth to the touch. The texture stays round, even in my journal. It hasn't flatten out over time.
Vibrancy of color: 
Strong and very bright on both light and dark colored surfaces, which I love!
Maintenance + clean up:
The Radiant Neon Amplify! Writers have a NO clog tip but I do recommend wiping the tip before placing the cap back on.
Store them upright to prevent paint from oozing out of the nozzle.
Applied too much paint onto your page? No problem! Take a wet paintbrush and gently lift the color from the page. Use a paper towel to dab excess water.
I hope this review encouraged you to try new techniques and to especially incorporate the Radiant Neon Amplify! Writers from Imagine® Crafts into your next project!
—
Disclosure: These products were supplied by Imagine® Crafts for the purpose of review. All opinions are that of the MixedMediaArt team. Some links on this page may be affiliate links and any purchases help to support the ongoing work by MixedMediaArt. 
~*~*~*~*~*~*~*~*~*~*~*~*~*~*~*~*~*~*~*~*~*~*~*~*~
Martice Smith II is creative director of Martice Smith II – Illustration & Design Studio, based in Missouri and owner of Uneek Art Boutique. She established herself as a freelance Illustrator and graphic designer after receiving her Bachelor of Arts Degree. Specializing in mixed-media illustrations, Martice's love for fashion, typography and wildlife are infused with a combination of traditional and digital art techniques. Discover more tutorials on her blog www.uneekart.blogspot.com!
~*~*~*~*~*~*~*~*~*~*~*~*~*~*~*~*~*~*~*~*~*~*~*~*~
.

.