Altered books are one of the exciting areas within Mixed Media Arts. This article will provide information as to what to look for when choosing a book to alter and some of the background to altered books.
What is an altered book?
An altered book is an old book, often no longer needed in its original form or for its original content, that has been turned into a work of art. Many mixed media art techniques can be used to create this artwork, from painting, stamping, journalling and collage. The final project may be a book with a common theme or it could be simply a "technique book" where many different mixed media techniques are tried. Books can be created by one artist or a group of artist may come together to do a "round robin "project.
History of Altered Books
Altering or reusing books and parchment has been around for a long time. When parchment was a scarce commodity, the monks would scrape off old writings and prepare the parchment for reuse. This is known as a palimpsest. Illustrations were also saved from the old manuscripts and reused in the new texts.
Modern altering came into vogue from the 1960's with British artist Tom Phillips, who created his "treated book" using a Victorian novel by W.H. Mallock A Human Document. More information can be found here:  Humument
These humble beginnings have created the phenomenon which we see today.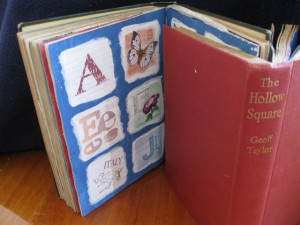 Choosing a Book to Alter
Firstly, as artists, we would never wreck a book of significant value or one that can still serve its original purpose.
The key to choosing a book to begin your altered book project is to ensure it is study enough to undergo the rigours you will put it through with your painting and gluing. It needs to be in fairly good condition, with the spine intact and pages mould free.
Next we need to check that the page sections have been sewn in. Newer books that have the pages glued in will not stand up to the altering process. To check the construction of the book, hold the book up so you can see the inner part of the spine and where the pages touch it; if you can clearly see the page sections (the little books within the bigger book) then it will have been stitched. To check further, carefully open the middle of one of the sections. If you can see cotton or thread, then the book has been stitched and is exactly what you are looking for.
Books with glued pages can still be pulled apart and used as background and collage pages with interesting fonts. Any illustrations can also be used in other projects. The covers of the book can be used as a substrate for other projects. There are many uses for these books; but we will not use them as the basis for an altered book.
Where Do I Look for Books to Alter?
As the book is becoming a work of art, it no longer holds its original value, so these books can be bought fairly cheaply. Church fairs, garage sales and opportunity shops are great places to keep an eye out for books. Discount book stores can also be treasure troves.
I will look for books with interesting pictures and fonts. Or books of a large size, which are especially good to technique books, are always a prize find.
We will cover the techniques of getting started with an altered book in the next article.
In the meantime, keep an eye out for those alterable books and…
Happy creating!
~*~*~*~*~*~*~*~*~*~*~*~*~*~*~*~*~*~*~*~*~*~*~*~*~*~*~*~*~*~*~*~*~*~*~
For further inspiration, have a look at  "Altered Art: Techniques for Creating Altered Books, Boxes, Cards & More" by Terry Taylor. This book is filled with photographs and the projects are amazing.
~*~*~*~*~*~*~*~*~*~*~*~*~*~*~*~*~*~*~*~*~*~*~*~*~*~*~*~*~*~*~*~*~*~*~
…