~ * ~
This article is written by Victoria Warren-Mears
Great inspirations for art are the heroes and saints among us.  I have long been a fan of Sir Winston Churchill, a great orator and leader.  Did you know that he was said to have had a lisp?  What a job to overcome and give inspirational speeches.
Sir Winston Leonard Spencer-Churchill (1874-1965) described himself as "an English-Speaking Union," being the son of Lord Randolph Churchill and the American heiress Jennie Jerome. He was educated at Harrow and the Royal Military College at Sandhurst, and was sent to India with a cavalry commission in 1895. He won early fame as a war correspondent, covering the Cuban revolt against Spain (1895), and British campaigns in the Northwest Frontier of India (1897), the Sudan (1898) and South Africa during the Boer War (1899). Churchill had authored five books by the age of 26. His daring escape from a Boer prison camp in 1899 made him a national hero and ushered him into the House of Commons, where his career spanned 60 years. (Source www.winstonchurchill.org)
I particularly am fond on the speeches given by radio to bolster Britain.  For this journal page, I hand wrote a portion of one of Churchill's speeches in pencil in my mixed media art journal. The words question the presence of evil in the world and the need for non-complacency in the face of evil.
The products I used for this journal page were supplies I had on hand in my studio:
Strathmore Mixed Media Visual Journal 5.5 inch by 8 inch (14 x 20.3 cm)
Grumbacher Academy Acrylic Paint – Lemon Yellow
Tattered Angels mist – Italian Sunset and Alaskan Salmon
Chalk Ink – Pink Grapefruit and Key Lime
Faber-Castell Pitt Pen – Black
Signo Uni-Ball – White pen
Pink Paislee Rub ons
7 Gypsies – Paper tape and black rub ons
I initially wrote the speech on the background.  Over this I painted a wash of 2/3 part water and 1/3 part lemon yellow acrylic paint.  After allowing this to dry, I began the layering process.  The next step involved misting with Italian Sunset, which was allowed to dry.  Then, I misted with Alaskan Salmon. After this was thoroughly dried, I stamped with pink grapefruit and key lime ink.  I also used a plastic doily and inked over it with Pink Grapefruit ink.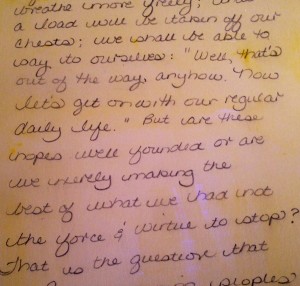 I transferred the photo of a young and old Winston Churchill from a transparency, using hand sanitizer and a rubbing tool.  I adhered another transfer over the previous transfer, to give dimension.  Finally, I used various rub ons and tape to complete the mixed media page.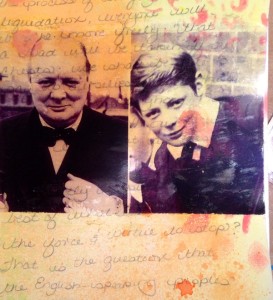 I love how I can still read bits and pieces of the speech and have a wonderful series of images of the orator for my inspiration.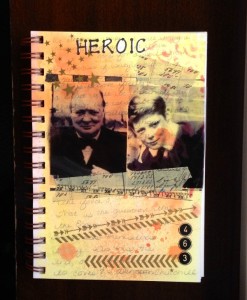 ~*~*~*~*~*~*~*~*~*~*~*~*~*~*~*~*~*~*~*~*~*~*~*~*~
Victoria Warren-Mears is full time scientist and part time artist working in paper and mixed media.  She can be found at work in her home studio, along with her husband, son and rescue dog.  You can see more of her work online at Victoria's Mellifluous Musings
~*~*~*~*~*~*~*~*~*~*~*~*~*~*~*~*~*~*~*~*~*~*~*~*~
.

.