~ * ~
This article is written by Shari Welch
Hand painting on glass is easier than you think, especially when using DecoArt Americana® multi-surface paints. They come in such a large range of colors it makes it so easy to bring your project to life.
One of my favorite things to do when invited over to a friends house is to bring a hand made hostess gift. I really enjoy making it and the recipient get to enjoy a gift made straight from my heart.
SUPPLIES
1. – Wine glass
2. – Rubbing alcohol
3. – Cotton makeup pad
4. – Paint brushes
5. – Americana® Multi-surface acrylic paints
6. – Beads
7. – 20 gauge wire
8. – Charm
9. – Wire bending and cutting tools
First I chose a large wine glass to paint my image on. I washed my glass in mild soap, rinsed it out really well, and dried it. I saturated a cotton make-up pad with rubbing alcohol and cleaned the areas I was going to paint.
I searched for a shamrock inspiration image online. I didn't need it to be exactly like I wanted my shamrock to turn out like. I was just looking for the size and something similar to what I wanted to create on my glass. I cut out the image just enough to fit inside the glass. I taped it on the inside making sure the image was centered on the glass.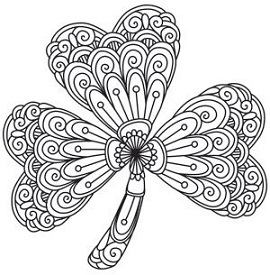 Using the image as a template I painted the shape of the shamrock. When this layer was dry, I painted my version of the shamrock details.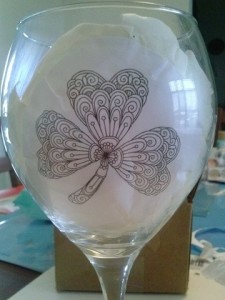 Instead of painting the top of the base of the glass I turned it upside down and painted the bottom. It is much easier to paint and it looks great when you turn the glass over.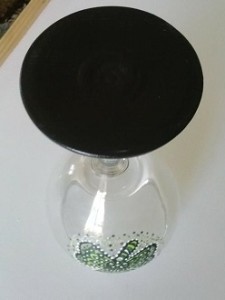 While the paint was drying I started on my charm for the neck of the glass.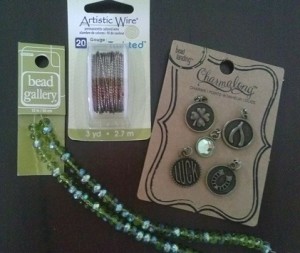 I measured out 5" of 20 gauge wire and cut. I made a small loop on one end. I added 4 beads, a charm and another 4 beads. I made a hook on the other end. I shaped the wire into a circle and it was ready to put on my glass.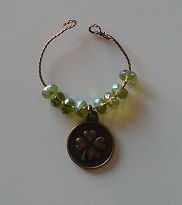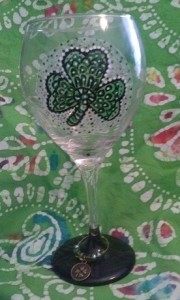 Note: Let the paint air cure for 7 days.
If you would like a top rack dishwasher safe glass air cure for 4 days. Put in a non preheated oven and bake for 30 min at 325. Let cool in the oven with the door open.
I hope you enjoyed this quick and easy glass painting and wine charm tutorial.
Shari
~*~*~*~*~*~*~*~*~*~*~*~*~*~*~*~*~*~*~*~*~*~*~*~*~
Shari Welch is a mixed media artist living in Denton Texas. She is known for using reuse and recycle materials in her artwork. She volunteers for SCRAP Denton where she is on the education committee, teaches workshops, art camps, and performs art demos. She is passionate about mixed media art and enjoys helping others discover their creativity.
Shari studied graphic design in Portland, Oregon before moving to Denton. Besides writing for mixed media art, she is currently a blogger for DecoArt, has been featured in Mixed Media May, and has been in a number of art shows in her hometown of Denton including GDAC "It's in the bag", Thirty for thirty art show, and 3arthwurks gallery show.
You can see more of Shari's artwork at facebook.com/my.altered.life and on her blog shariwelch.blogspot.com
~*~*~*~*~*~*~*~*~*~*~*~*~*~*~*~*~*~*~*~*~*~*~*~*~
.

.