~ * ~
This article is written by Shari Welch
Soon Christmas will be winding down and New Years Eve will be on our mind. Champagne and ringing in the new year go together like peanut butter and jelly. Here is a project that you can make in a few hours and will look so cute holding your bubbly until the clock strikes twelve.
SUPPLIES
1. DecoArt media fluid acrylics paint (cerulean blue)
2. DecoArt Americana acrylic paint (white wash)
3. DecoArt Glamour dust ultra fine glitter paint (ice crystal)
4. Plain fabric wine bag
5. Decorative ribbon
6. Decorative beads and robin's nest dew drops
7. Assorted sizes of round sponge pouncers
8. Detail brush
9. Aleenes tacky glue
Note: DecoArt products work seamlessly together. You don't need to worry that you were not using all of the same product line when creating.
You will want to start out by cutting a piece of card stock or scrap paper the same size as your bag. Insert this into the bag. This will make sure your paint is not going to bleed on to the other side of the bag.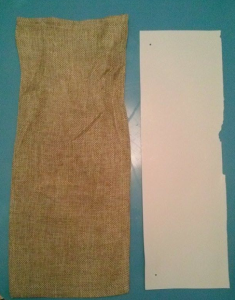 Put small amounts of your paint on a paper plate far enough apart to be able to blend together later on. Start with your largest pouncer. Load paint sparingly on the pouncer. Dab off excess on a clean paper plate. Do this same process with the other colors and sizes of pouncers. Let dry several hours or use a hair dryer on low setting.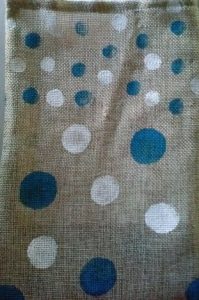 I added some interest to a few of the circles by mixing the blue and glitter paint together.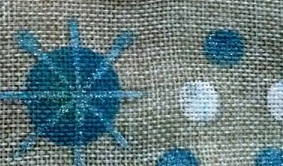 I added a few dew drop accents.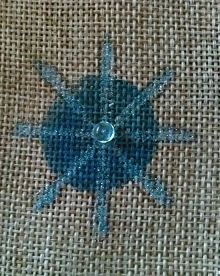 I filled the inside of a large bead with glue and stuffed the end of each ribbon in the hole. Let dry
To finish, add your favorite bubbly in the bag, wrap the ribbon around, tie a bow, and
and it's party time!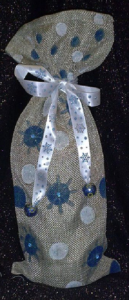 ~*~*~*~*~*~*~*~*~*~*~*~*~*~*~*~*~*~*~*~*~*~*~*~*~
Shari Welch is a mixed media artist living in Denton Texas. She is known for using reuse and recycle materials in her artwork. She volunteers for SCRAP Denton where she is on the education committee, teaches workshops, art camps, and performs art demos. She is passionate about mixed media art and enjoys helping others discover their creativity.
Shari studied graphic design in Portland, Oregon before moving to Denton. Besides writing for mixed media art, she is currently a blogger for DecoArt, has been featured in Mixed Media May, and has been in a number of art shows in her hometown of Denton including GDAC "It's in the bag", Thirty for thirty art show, and 3arthwurks gallery show.
You can see more of Shari's artwork at www.facebook.com/my.altered.life and on her blog shariwelch.blogspot.com
~*~*~*~*~*~*~*~*~*~*~*~*~*~*~*~*~*~*~*~*~*~*~*~*~
.

.