~ * ~
This article is written by Kim Kelley
Does it drive you crazy when you walk into a store in the middle of September and there are Christmas decorations up, but no Halloween ones? It does me. Seems like we are fast forwarding through life, always looking too far ahead, skipping sections that could be memory makers, instead of stopping and enjoying what time is right in front of us.
OK, OK I know I am feeling like life is going way to fast right now. My daughter just turned 18, is a senior and is looking at college. Just yesterday I dropped her off at Kindergarten and she looked up at me like I hung the moon.
Anyway back to the task at hand…my Halloween project. This year I wanted to create something special for my BUNCO party. So I got an idea from Pinterest to decorate a skull. Now the photo I saw used real flowers, but needing something that would last I decided on fake ones. I also wanted to add a few spiders and a crow on each, thank God for Michael's, I was able to get everything there and on sale for half off!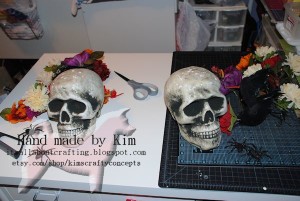 The Skulls
I used Styrofoam skulls so all I had to do was stick the flowers in where I wanted…you can see some of the holes in one of the pictures, I ended up pulling all of the stems out once and starting over wanting a different look. I did not like the way the stems showed from the back, so I added a thick, almost cheesecloth material hanging from the flowers and draping down the back of the skull. I glued one of the glitter spiders to the skull and one to the top of the highest flower and took my glue gun and created strings of webbing all over. All in all this was pretty easy to create.
Crow 1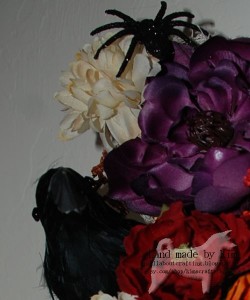 Crow 2
I usually take a lot more pictures, but figured there are only so many angles you can take of fake flowers!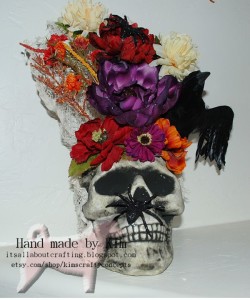 Skull 1
I hope this inspires you to get a little creative with your Halloween decorations!
Life is short, do something creative every day!
~*~*~*~*~*~*~*~*~*~*~*~*~*~*~*~*~*~*~*~*~*~*~*~*~
Kim Kelley is borderline obsessive about her crafting and her art. She loves mixed media art because you are free to go beyond your comfort zone, using your imagination and exploring an anything goes mind set. Kim loves to learn and explore new techniques and hopes that any art she creates leads someone to find their inner creative artist!
Sites: itsallaboutcrafting.blogspot.com and kimscraftyconcepts
~*~*~*~*~*~*~*~*~*~*~*~*~*~*~*~*~*~*~*~*~*~*~*~*~
.

.