Mixed Media Art Technique 02 was all about credit card painting and here is what I did
with the completed background.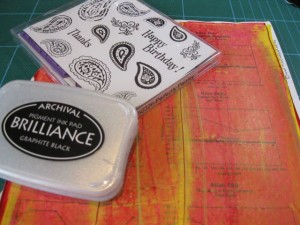 As I wanted to credit card painting and the brilliant colours to show through, I chose to decorate
the background with simple stamping, using black ink. My preference is to use
Brilliance Ink in Graphite Black for this project as it is a juicy inkpad, which is good for the more
solid designs and also because it will dry on most surfaces. As I has a thin coating of metallic gold
paint as the top layer, I needed to use an ink that would dry on the non-porous surface. I chose a
paisley design with stamps by See-Ds and used different sizes to cover my background.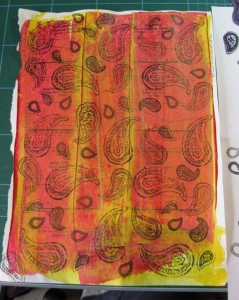 Once dry, I cut up the sheet to make a simple birthday card, an ATC and mini handmade book covers (still to be turned into a book) And I have still got a little left over. Image on ATC from Art-e-zine – my favourite place to go for vintage images.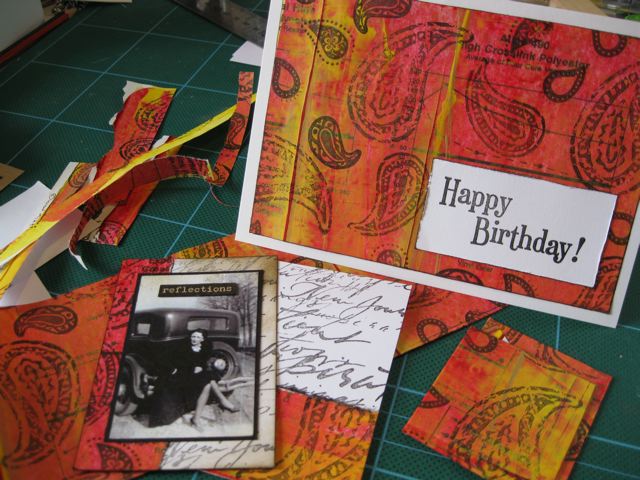 I hope this inspires you to get creating.
~*~*~*~*~*~*~*~*~*~*~*~*~*~*~*~*~*~*~*~*~*~*~*~*~*~*~*~*~*~*~*~*~*~*~*~
Get your own copy of the Credit Card Painting Technique sheet for
99 cents
and get started on your Christmas card backgrounds NOW!
** use discount code Homemade at the checkout **
The credit card painting technique is great for getting colour onto lots of paper fairly quickly,
which makes it an ideal technique for large swaps or large journal pages.
~*~*~*~*~*~*~*~*~*~*~*~*~*~*~*~*~*~*~*~*~*~*~*~*~*~*~*~*~*~*~*~*~*~*~*
Happy Creating!

.

.
~*~*~*~*~*~*~*~*~*~*~*~*~*~*~*~*~*~*~*~*~*~*~*~*~*~*~*~*~*~*~*~*~*~*~*