~ * ~
This article is written by Marilyn Harris Mills
Creating mixed media feeds my soul. When I need to immerse myself into creativity and inspiration, I reach out to my supplies that are beckoning me to discover fresh ideas of using them.
I'm a Golden lover!  I use the Golden line of products exclusively, whether it be their fluid, open or heavy bodied acrylics or their abundant choice of mediums.  There is nothing better than to leave my studio gummed up with molding paste and dried paint!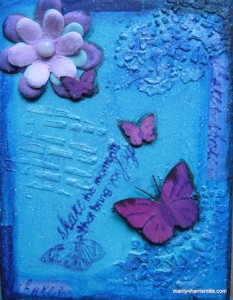 This project I've created for you is about using various supplies to create a small work of art.  As artists, we tend to overload on our addiction for art supplies.  Consequently we don't always take the time to co-mingle the supplies working them in tandem with each other to create something that they lead us to discover.  In this project I've reached for and used fluid acrylics, molding paste, a rubber stamp, twinkling H2O's, washi tape, dye ink sprays and pads, and embellishments such as  flowers, buttons & wooden butterflies.  What didn't I use?!!  These products are my favourites…ones I reach for time and again.  Using embellishments I've collected over the years, it is fun to combine them into an art piece.
I create based on my intuition….my inner voice tells me the journey to take while I reach for my supplies during the process. I have no pre-conceived notions of where I will end up.  I choose the colours of my paints & the mediums first….then the supplies that will add the meaning to the project; in this project I chose a rubber stamp ….next I simply reach for "do-dads" as I call them (embellishments)  to enhance the project. The final step is to bring harmony to the project.  In this particular piece, I used an old toothbrush to splatter white paint over everything….creating harmony and cohesiveness in the project is an important step I believe and one that is often overlooked.
Each project is as they say "a labour of love"…..but it's not labour, it's simply my inner muse, my soul coming out to play….the process is the love part.  An opportunity to express with art what I cannot say with words. With this project, I'm sharing with you the moments of joy this creation offered to me.
~*~*~*~*~*~*~*~*~*~*~*~*~*~*~*~*~*~*~*~*~*~*~*~*~
A bit about Marilyn Harris Mills:
I'm passionate, creative and eccentric, at least that's what my girlfriends tell me! I'm a professional published artist, designer and teacher living in Ottawa Canada.  I journey through life with my dogs Lucy and Mozart. Practicing yoga, journaling, meditating and walks in the forest nourish and excite me. I did try knitting once but gave that up…couldn't remember to count the stitches. In my free time, I practice Zentangles and Mandalas. I also love creating mixed media art – it feeds my soul.  I volunteer, teaching art to teenage girls at a treatment centre.  It is the most rewarding endeavour of my life. One of my favourite quotes is "I work in whatever medium likes me at the moment!" (Marc Chagall)
~*~*~*~*~*~*~*~*~*~*~*~*~*~*~*~*~*~*~*~*~*~*~*~*~
.

.