~ * ~
Today we have Mixed Media Artist Francesca Albini sharing two of her journal layouts.  Our Mixed Media Art community is a diverse bunch and over the last 5 months we have shared work from all around the world. Each artist has had different interests, reasons why they create and a wide range of skills.
Let's let Francesca tell us her story…
~*~*~*~*~*~*~*~*~*~*~*~*~*~*~*~*~*~*~*~*~*~*~
I am a visual artist using pretty much every media and tool that exist, from digital painting to 35mm plastic cameras. I especially love using children's art supplies and anything colourful and interesting. I collage, paint, draw, photograph, to record feelings and memories of places and emotions. I'm Italian, I live in London, UK, with my husband, and I love travelling to warm countries, deserts and oceans.
I'd like to share with you 2 pages from my journals. The first one is a junk journal. I find them a great way to record my travels . I bring with me a hole puncher and some hinged rings, then I collect whatever scrap paper I find, leaflets, pages from books, anything relevant to my travel and I work on that, adding my own photographs, glazes of paint, and text.
The second picture is from an altered book. I like creating landscapes with layered found paper and tissue paper. I paint white tissue paper to give it a feel of a grass field or rocks, then rip it with my hands and laminate it with PVC glue.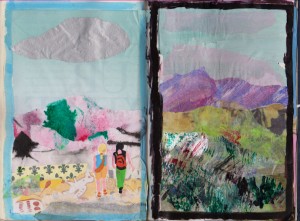 To see more of Francesca's  artistic endevours, you can visit her blog: http://franjournal.blogspot.com/
~*~*~*~*~*~*~*~*~*~*~*~*~*~*~*~*~*~*~*~*~*~*~
Thank you for sharing your work with us, Francesca.
.

.