This article is written by M. Carmen Sánchez (aka Cuchy) of La Almohada
Christmas is approaching and with it, a huge list of expenses: the presents,
the big meals, the decorations…
If we add some expensive art supplies to that list…. our budget bursts
With a cost-cutting on mind, I want you to realize how many "art supplies"
we all have within reach and with no cost at all.
I bet you have all these everyday objects in your room. All of them can be used
as art supplies in our mixed media projects.
– Toilet / kitchen paper
– Toilet / kitchen paper tubes
– Any kind of lids
– Plastic wrap
– Paper wrapping from the presents
– Embellishments from the presents
– Bubble wrap
– Cardstock / cardboard
– Newspapers / magazines / old books
– Tissue paper
– Combs to give texture
– Sponges
– Buttons / ribbons / lace /
… and so on
Creativity has nothing to do with money. I would say… the less you have
the more creative you become 🙂
Let see how we can make a cool mixed media Christmas tag with
"almost nothing"
We will need a tag, coloured tissue paper, toilet paper, pva glue, a book page,
white and black markers, trim or ribbon and a bit of paint
Start painting the tag in a color that matches your tissue paper colour (you can
use white tissue and once dried, paint it with another colour if you want). Let it dry.
Tear the tissue paper in pieces and glue them to the tag in a random manner using
the pva glue, both underneath and over the paper pieces. Let it dry.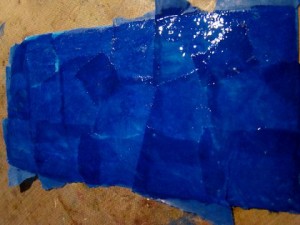 Now take a couple of sheets of toilet paper and -making a roll- soak it on a mixture
of water and pva glue at 50%. Make a heart shape over a piece of a book page.
Let it dry thoroughly.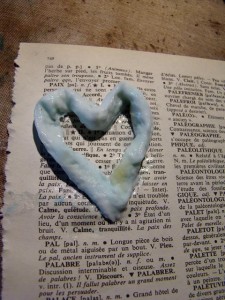 Paint the heart and cut it out once dried. Glue it to the tag and punch or cut some stars
out of a book page. Finish the tag with some white/black dots and a ribbon.
That's it! A cool tag to go with one of your presents this year. Easy and cheap.
I hope you like it and you give it a try. I would love to see what you come up with.

**************************
M. Carmen Sánchez – Cuchy
A mainly self-taught mixed media artist who loves to play with textures and layers
Member of the Kuretake's Design Team -manufacturer of writing supplies- Design
Team Instructor of Stampers Best -american manufacturer of rubber stamps and
cling cushion mounting foam- and contributor and guest designer in various
Spanish and international blogs, she taught several workshops in Madrid and
Barcelona and loves to teach from her own experiences, and encourage the students
to think outside the box and put their inner self in everything they create, to achieve
a personal and unique result.
You can find more on her blog , her facebook page, or watch her broadcasting live
on her Livestream channel
******************************************************************************
.
.