This article is written by Laura Thykeson from Taz's Corner
Many people have asked me to explain how I pick out and put together the "Altered Text" on the pages of the altered books I create. I am hoping that I can explain a few things and make it a little less confusing for the person new to "altered text" and found poetry. In essence, "Altered text" is made when certain words or phrases are chosen, highlighted and connected by "rivers" in the order they are printed on the page. Then the rest of the words are marked out or painted over, making it where you can only read the selected text. "Rivers" are dark lines connecting the words on the page in the order you want them read for added effect. This is a different technique than "Found Poetry" which is when words and phrases are cut out of a page or pages of separate text, then rearranged and attached to a new substrate such as an altered book page, cardboard, a collage or an ATC (Artist Trading Card) or other artwork.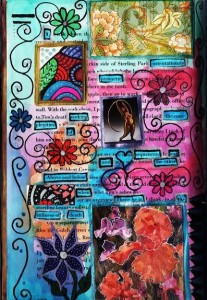 When you are ready to start a new altered book page, before you do anything else, let your eyes skip over the text on the page lightly a few times and see if any words or phrases catch your attention. If so, write them down on a scrap piece of paper (I use separate "altered text workbooks", made from composition notebooks, for each altered book I create). Keep rereading the page, picking out other words or phrases to go with what you have and write them down, until you have made a sentence or until the wording suits you and "says something" to you. For instance,  the altered text I have chosen in the first picture I have included reads – "I ostentatiously pirouette, seeking the complexities of sequences, one and the other, above and below, when there he is, the stillness of death". I really like the way this page reads. It "speaks" to me in a way, with a larger meaning than just how the text reads. It makes me think of how short life is, and how we often go through life so quickly, distracted by the things life throws at us, then suddenly – the end of our life looms near and we wonder where the time went so quickly!
Once I have picked out my "altered text", I then draw black boxes in permanent ink around each word(Sharpies work well for this), then use a colored highlighter to really set them off where they will show well up on the page. Now I am ready to start creating my layers of artwork, beginning with watercolors,  then layering acrylics, collage elements, permanent inks, markers, colored pencil, etc., making sure to not cover up the words I have chosen with my artwork as I go. One other tip – I also glue together 3 pages, then leave a two-page spread, then glue 3 more pages together and so on, to give myself a sturdy base for my artwork.  I am including a couple more pictures of my pages I have finished, so you can see some examples. Hopefully, this has helped you to add another dimension to your mixed media and altered book art! Once you get the hang of it, it can become quite addicting to see what "Altered Text" sentences you can come up with on each page. After you have gotten the hang of finding your words on the pages, you can also create your art to match or compliment your "altered text" and add a whole new aspect of additional meaning to your altered book art! You can create a whole new "story within the story" with the sentences and phrases you discover when you "read between the lines"!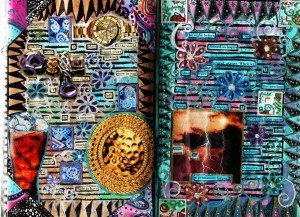 ~*~*~*~*~*~*~*~*~*~*~*~*~*~*~*~*~*~*~*~*~*~*~*~*~
Laura Thykeson has been totally immersed in mixed media art for many years. If it will "take paint", she has probably painted on it!
Laura discovered altered books and art journals about a year ago and have been hooked ever since! She has always loved mixed media art because of the variety and the "no rules" aspect! Starting out a fine art oil artist, she soon transitioned into her own line of wearable art, purses and jewelry, along with decorative items for the home.
Laura lives in Granbury, Texas USA.
You can see more of Laura's work at at her blog Taz's corner
~*~*~*~*~*~*~*~*~*~*~*~*~*~*~*~*~*~*~*~*~*~*~*~*~
.

.