~ * ~
This article is written by Kathi F. Rerek
As part of the DecoArt Blogger team, I was delighted when I recently received a package containing products from DecoArts' new Media range, which includes new Fluid Acrylic paints (including Interference and Metallic colors), crackle products, Texture products, Antiquing Creams, Misters, and Varnishes.
I decided to try them out on a flat canvas, which I knew would hold up to most anything. I started out by applying White Gesso to smooth out a bit of the canvas texture as well as cover up a rejected project. DecoArts' White Gesso  is thicker than most others I've used and covered up the previous project very well.
The next step was to  mix Primary Cyan, Titanium White, and Paynes Grey Media Fluid Acrylics (MFA) on a palette and sponge them onto the canvas. Pthalo Green-Blue MFA were sponged horizontally over the blue to add additional color. This layer was knocked back with a baby wipe.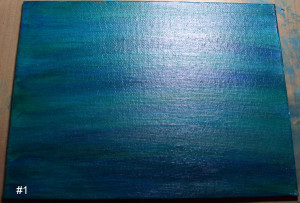 Primary Cyan and Primary Yellow were blended then applied over the Kelp Forest stencil by The Crafter's Workshop.
Burnt Umber MFA, Primary Yellow MFA, and Diarylide Yellow MFA were combined on a palette, then sponged over the Sea Horse from the Sea Creatures stencil by the Crafters Workshop onto each side of the canvas.
White Modeling Paste is supposed to be tintable using Media Fluid Acrylics, so I decided to give that a go. I scooped out a palette-knife bladeful of the paste and blended a few drops of Primary Yellow MFA into it. This was applied over the Seahorse from the Sea Creatures stencil.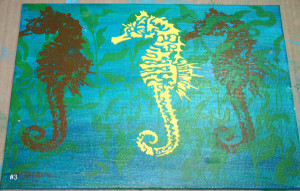 It was time to try out DecoArts' new White Crackle Paint, which like the Modeling Paste, is supposed to be tintable. Using a palette knife, I scooped out some White Crackle Paint onto a palette and mixed in a few drops of Pthalo Green-Yellow MFA and Primary Yellow MFA. The mixture was sponged over a Leaf Flourish stencil by Dylusions/Ranger onto the right side of the canvas. The stencil was cleaned and when I came back, I was thrilled to discover that the leaves had already crackled! The same mixture was sponged over the stencil onto the left side of the canvas. Sadly, it seeped under the stencil, so I had to wipe it off, which left some spotty patches on the canvas. I went ahead and reapplied the Crackle Paint mixture through the stencil with better results.
By this time, the center Modeling Paste on the Sea Horse had dried sufficiently for me to add additional colors to it. First Quinacridone Gold MFA was painted and allowed to dry. Interference Gold MFA was then painted over the previous layers.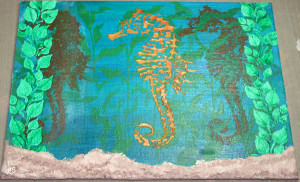 Like the other DecoArt Media Texture products, Textured Sand Paste is supposed to be tintable. It is a greyish color when in the jar and I wanted the sea floor to be a different color, so I scooped some of the paste onto a palette and added Burnt Ochre MFA and Transparent Yellow Oxide MFA to it, then used a palette knife to apply it to the base of the canvas.
While this was drying, I went back and touched up the leaves since I wasn't pleased with the color I had mixed. Pthalo Green-Yellow MFA and Interference Green MFA were combined and spritzed with water to thin it to a wash-like consistency. This was brushed over the leaves on both sides of the canvas. I was delighted to note that the crackle texture remained even when painted over with a wash of paint.
The painted Textured Sand Paste was mostly dry, but I wasn't thrilled with the color, so I mixed Transparent Yellow Oxide MFA, Burnt Sienna MFA, Titanium White MFA, and Burnt Umber MFA and lightly brushed the paint over the sand. Much better!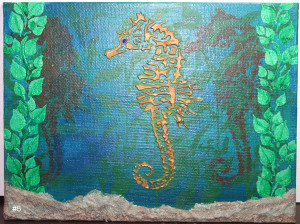 The last step was to combine Cobalt Turquoise MFA and Cobalt Blue MFA with some water to create a wash, which was brushed over the entire canvas. A purple jewel added to the seahorse's eye finished the canvas.
Whereas I'm not totally happy with my canvas, I am very pleased with the performance of the products from DecoArt's Media line and can't wait to explore them further.
Reference Websites:
Susana's Custom Art and Card Design — SCACD carries most of the products mentioned in this article. Additionally, she carries rubber stamps that coordinate with several of the latest stencils from The Crafters Workshop.
~*~*~*~*~*~*~*~*~*~*~*~*~*~*~*~*~*~*~*~*~*~*~*~*~
Kathi F. Rerek is a mixed media artist who lives in New Jersey with her husband, daughter, and two cats. She's been crafting for almost fourteen years and has been lucky to have served on several design teams.
Her blog, Kat's Tales of Stamping and Scrapping can be found at kathstales.blogspot.com
~*~*~*~*~*~*~*~*~*~*~*~*~*~*~*~*~*~*~*~*~*~*~*~*~
Disclosure: These products have been provided by DecoArts for the purpose of review. All opinions are that of the MixedMediaArt team.
.

.