~ * ~
This article was written by Katja Blum
I love yarn!
Imagine a hysterical, yet manly cackle in the background, as my husband marvels at this bold understatement, surveying the yarn-filled tubs and baskets and boxes that are taking over our apartment. I am endlessly fascinated with the colors and textures of yarn. A skein of silk, wool or bamboo yarn is a feast for the senses – even for your nose, if you happen to enjoy the faint whiff of vinegar bath on hand-dyed yarn. But yarn is not just pretty; it is a ball or hank of raw artistic potential. A ball of yarn could become anything – a sweater or hat, obviously, but also a piece of jewelry, a fuzzy pom-pom or a prayer flag woven saori-style. It could be wrapped around a canvas as a textural background or dipped in glue and molded around a balloon or bowl for a yarn sculpture. It can be painted, stitched, knotted, cut, braided … you get the idea.
If there is one thing I like more than using yarn, it would be making it. Spinning is my very favorite craft activity – I spin way more yarn than I could ever knit or weave up. It's great fun to make the big, crazy, textured yarns that are commonly referred to as "art yarns". Bobbles and beehives and beads, oh my!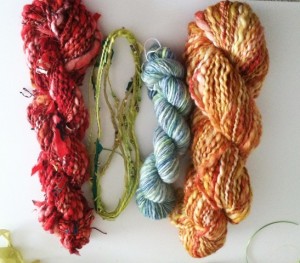 If you are a spinner, grab some fiber, decorations and a tutorial and start making art yarn. If spinning isn't your thing, you can find beautiful art yarns from fiber artists at craft fairs and online. If you need just a few yards of a special embellished yarn for an art project, you can make it yourself. No spinning required.
You'll need:
Yarn
Craft wire, 28-30 g
Fabric strips, paper strips, ribbons, beads, sequins – any embellishments that can be strung or spiked on your thin craft wire
A sturdy clamp or vise
The base for your art yarn is, well, yarn. Ingenious, I know. Any fiber content and thickness will work, but bear in mind that your finished yarn will be quite a bit bulkier than the base strand. You can, of course, combine different yarns for a marled look.
Prepare the wire:
A length of craft 28g craft wire is going to be the "spine" of your yarn. Obviously, yarn is made by twisting fibers, so that they for a long string and hold together. Your no-spinning art yarn is held together by twisting the base yarn with thin wire, which will make it hold its shape and secure the embellishments. For one yard of finished yarn, you'll need to string about ½ yard's worth of embellishments, if you want them fairly closely together.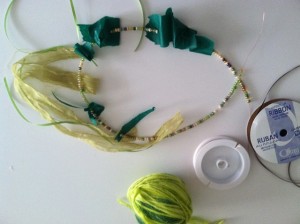 Paper strips are best spiked on the wire in a harmonica fashion for a firm hold, but with fabric and ribbon, you can just poke the wire through one end and secure the loose length of material while twisting. You should leave the wire on the spool while threading your embellishments. They will be spaced out later, and it's best not to run out of wire. If you do want to use wire scraps or different colors, you can twist the wire ends together and smooth them into the other materials.
Secure the ends of your base yarn and wire in a heavy clamp or vise. If you don't have any, that's fine – just knot and wrap the ends around something stationary. They have to stay in place as you twist. I once duct-taped the ends to the leg of my desk. It worked.
Twist away. Make sure to twist in the same direction throughout. Longer fabric strips tend to wrap around everything else, so take care to have the wire wrap around the outside of all materials. When a length of yarn is completed, move it up in the clamp or vise for a convenient working distance. Don't crush beads and other embellishments when securing the yarn – ask me how I know this is an issue.
Make as much yarn as you need and embellish to your heart's content. Obviously, the wire-reinforced yarn is going to be stiffer than regular yarn, but it is a wonderful addition to mixed-media collages, jewelry, sculptures and art dolls.
~*~*~*~*~*~*~*~*~*~*~*~*~*~*~*~*~*~*~*~*~*~*~*~*~
Katja Blum is a writer and translator from Tulsa, OK. As an artist, she started with yarn, fabric and papier mache (rarely together), branching out into collage and other paper arts about ten years ago. Her latest obsession is making soft stuffies and art dolls – to the delight of her toddler. She also likes to find creative solutions for ugly or broken things around the house – to the delight of her husband.
You can see more of her work with fiber, paper and words at www.thewaywardsheep.com
~*~*~*~*~*~*~*~*~*~*~*~*~*~*~*~*~*~*~*~*~*~*~*~*~
.

.