~ * ~
This article is written by Ann Strecko Koeman
Making your own mixed media embellishments for your crafting and art making can be satisfying to one's creative soul and also to one's wallet!  In this article I am sharing my mixed media technique tip on how to make some of your own Faux Metal embellishments with your glue gun and some cardboard.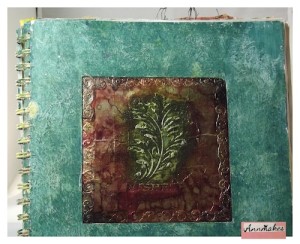 The examples I have to show you are rustic looking which is what I like when making such embellishments.   I like the look of old and worn even rusty metals and sometimes I want to add such a piece to one of my projects but I find myself limited by certain constraints.  If I do not have such a piece in my studio stash and I am pressed for time then I will make something up.  Also, sometimes I may have a piece of real metal but it is just so heavy that it would not be supported properly on my project.  So here again is when making something light weight comes in handy.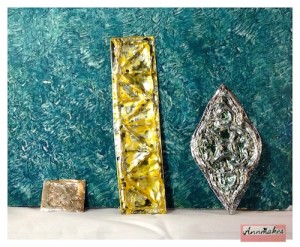 One of the ways I make such mixed media embellishments is by stamping an image such as this one in the picture, of a decorator's foam stamp intended for painting on walls, but I use ink and cardboard.  Once the ink has dried I heat up my glue gun, add a stick of glue and trace over the design with the hot glue.  I try to make the glue design fairly thick.  Once the glue has cooled and is hard I spread some PVA or Tacky glue onto a piece of kitchen aluminum foil (cut to about twice the size of my stamped image).  I also cut the cardboard around the stamped image to the desired shape and size.  Then, I place the glue coated foil over the dry and hardened glue tracing and press into all the cavities.  I start from the centre of the image and rub with my fingers and the eraser end of a pencil the foil so it sticks to the cardboard.  Aluminum foil is thin and may tear but that is okay because another piece can be patched over any tears.  Colouring the foil afterwards will also hide any imperfections.  Once I am satisfied with the adhesion of the foil I let the piece dry completely.  Once dry, I have fun with inks, paints, embossing powders and more to achieve the look I want.
The process is pretty simple and yet can give such intricate designs!  These light weight faux metal decorations can be used on so many different types of surfaces and will not add too much weight to your project.
~*~*~*~*~*~*~*~*~*~*~*~*~*~*~*~*~*~*~*~*~*~*~*~*~
Ann Strecko Koeman is a busy mom and artist trying to stay warm in the cold cold winters of Canada!  To stay warm she creates something just about every day.  Whether the creation is a painting, a sewn project, a written article for this site, a post for her blog, and even making videos on Youtube!  She is often found with her hair up in a twist , her hands stained with inks, and her clothes with paint splatters underneath her long goose down parka!  She even owns gloves that have flaps so her fingers are free to type away and there is a warm mug of hot beverage close by to warm up those digits.  For more of Ann's craftiness you can visit her blog here: annmakes.blogspot.com
~*~*~*~*~*~*~*~*~*~*~*~*~*~*~*~*~*~*~*~*~*~*~*~*~