Can you believe that we are celebrating our 3rd birthday?!? How exciting!
I love how our community has grown and our love for mixed media art has developed over the last 3 years. We started with one little article [What is Mixed Media Art?] and have now features dozens of artists and tutorials and projects, all aimed at fulfilling your inner need to create, while NOT spending a fortune on the latest colours or products. We can be creative with a few simple supplies, a little know-how and giving ourselves permission to play and create art! It's as easy as that!!
And for those of you who still don't believe me (or in yourself) check back to our article on Dispelling the "I can't do it" Myths of Creativity!
To celebrate our birthday, I have 3 ephemera kits to give away. To be in the running, leave a comment, telling us how your mixed media art has changed over the last 3 years. My favourite 3 will receive an ephemera kit in the mail.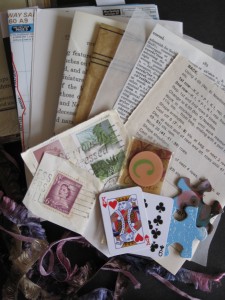 Comments will close Fri 30 November 2012! Please make sure I can contact you.