~ * ~
This article is written by Anjuli Johnson
When I was finishing my history degree, I worked on a project that quickly became one of my favorites. The main stipulation was that all of my research had to be based on what historians call "Primary Documents". Primary documents are direct evidence of the topic being researched, and were created by witnesses or recorders of the events. Examples of primary documents include journal entries, birth certificates, and newspaper articles.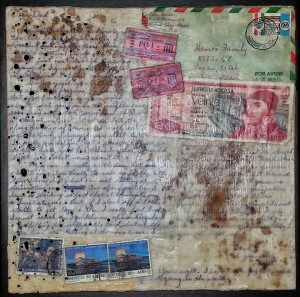 I remember researching my project required hours in the library, searching through rolls of microfilm for hundreds of birth and death certificates and interpreting the information I found there. It sounds so tedious, but going through those letters and certificates and seeing the names of actual people, their handwriting, and the tiny portions of their lives that were recorded there- it was fascinating. I'm not sure what it is about old certificates and journal entries- it's like they contain secrets that are just waiting to be discovered.
When the journal entries and letters are from your own family, that feeling of fascination triples. A few years ago, my grandparents basement flooded and we had to bring out all kinds of boxes to keep things from being ruined. It was then that I discovered a cache of letters from my father to his family while he was a young missionary in Mexico in 1974-1975. What an amazing feeling, going through those letters, reading about my dad who at the time was even younger than I was. Seeing his handwriting, the little tidbits he had collected, the replies his parents sent him, pictures, etc. were just like a window to the past. As a historian, those documents represent the truth of who my dad is and was, as well as who I am, as his daughter. I want to immortalize that truth, to make sure that it doesn't get buried at the bottom of a drawer or inside a box. How could I do that in a way that would be respectful, beautiful, and long-lasting?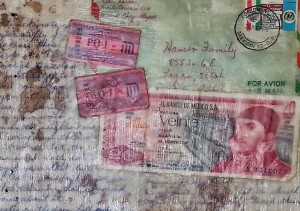 I decided on a set of encaustic collages- one of my Father during his mission and one of me during mine, 30 years later.
Since I knew I was going to be using primary documents, I started by choosing what to include and made copies and scans of every piece. I debated using the originals in my art, but I finally decided that the true value of my collage is in the fact that these are actual pieces of my own history. These artifacts represent my past, and by extension, my present and my future. Using printed copies just didn't seem right, yet I still needed to make sure that nothing would be lost by including the originals in my collage. Once I have each piece framed, the letters I chose to include will be typed in their entirety and adhered to the back, so that even though parts of the originals are covered in the collage by wax and other elements, the whole letter can be seen simply by looking at the back of the painting.
The collage I created about my father is much more vintage looking than mine- I think the nature of the elements I used for his, and the fact that they are 30 years older adds to that look, but I also used rust in between layers of wax. To use this technique, I soaked a portion of steel wool in a white vinegar and water solution, and shook the droplets directly onto the wax. Once they dried, I was able to add more layers of wax and elements to imbed the rust in the middle of the collage. Adding the drops of India ink to the left side of each collage as a final touch brought more continuity to the set, as well.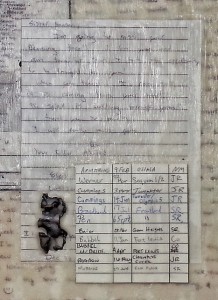 Don't be afraid to showcase your family history through your art.  I will admit, I was a little nervous to be using the original letters of mine and my dad's but to be honest, they mean so much more in this form than they do stacked in a box.  Collect your family's primary documents, make copies and scans- you can even use the copies in your art if you prefer- but do something with your family's memories that will spark interest and ensure that those memories are remembered and cherished, never misplaced or forgotten.
~*~*~*~*~*~*~*~*~*~*~*~*~*~*~*~*~*~*~*~*~*~*~*~*~
Anjuli Johnson is a Mixed Media Artist from Raleigh, NC.  She began her art career as a scrapbooker, and it's been an evolutionary process ever since.  She loves all things mixed media- paper, paint, pens, wire, gears, clay… the list goes on and on.  She is constantly trying to push through her fears to discover and develop her talents, meet new people, and learn from those around her.  To see more of Anjuli's art and techniques, check out her website at www.thefarpavilion.com  and like her Facebook page www.facebook.com/TheFarPavilion
~*~*~*~*~*~*~*~*~*~*~*~*~*~*~*~*~*~*~*~*~*~*~*~*~
.

.