~ * ~
This article is written by Melanie Statnick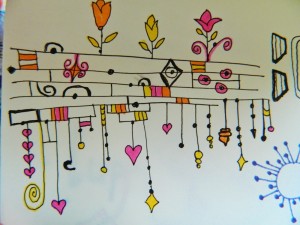 Lately I have been doodling in sketch books on legal pads and more. To the doodler a canvas can be anything. When I'm talking on Skype I doodle, "watching" TV I doodle, talking on the phone, even when I think of articles to write I doodle. The mind drifts the pen drifts. To the experts and the English dictionary doodling is "absentminded drawing" Clearly doodling gets no respect. This is defiantly not an accurate description of doodles.  Artists and non-artists have been writing books on how to doodle in art and how doodling is important in the work place and in schools. Companies are being taught how to use the white board more effectively by doodling along with their presentations in meetings providing a visual aid.
Doodles on the white board are used in schools from grade school to universities for students that need a visual aid.    When you were in school how often did you doodle in the margin when you were supposed to be paying attention?  How often did you get caught?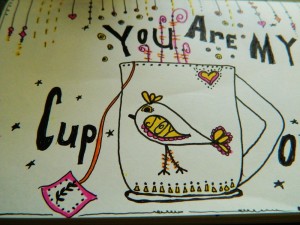 Studies have shown that people who doodle at times when they are supposed to be paying attention retain 25% more detail than non-doodlers. Drawing and doodling engages the mind, helps us think and improves concentration. It's been proven to aid in memory retention. It occupies the mind from drifting into unwanted thoughts at times like meetings and lectures and prevents us from daydreaming.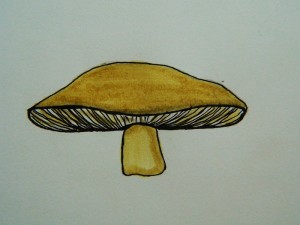 Morley Safer said "Dull people don't doodle".  Perhaps he's right? When you post your doodle art online Facebook, Twitter, Pinterest, and Instagram…Does it get the same fan base love as your "other" artwork?  Can you tell if your audience takes it seriously? When I doodle I'm getting better at my skills. My hand retains memory and my "other" art becomes better and it's so relaxing.  Doodle on sisters and brothers, doodle on anything.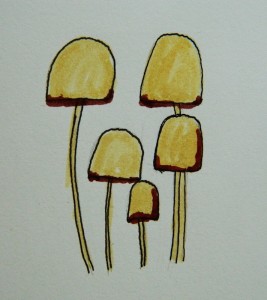 Famous doodlers include John F Kennedy, Hillary Clinton and Mark Twain
Source Credit: CBS News The higher purpose of doodling 6/22/14
~*~*~*~*~*~*~*~*~*~*~*~*~*~*~*~*~*~*~*~*~*~*~*~*~
Melanie Statnick is a Canadian Mixed Media & Collage Artist out of North Carolina. Melanie creates art daily from her private studio. Her style is fun, whimsy and eclectic. Melanie is also an Art Instructor for local venues and community colleges for students of all ages. Learn more about Melanie: www.melaniestatnickart.com
~*~*~*~*~*~*~*~*~*~*~*~*~*~*~*~*~*~*~*~*~*~*~*~*~
.

.