This article is written by Debbie Ward from Lucky Girl Paper Arts
I love die cuts…there I said it.  Like most people I started out with my Cricut to cut shapes from cardstock.  While I still use my electronic cutter, I find that I use my Cuttlebug more often.  The reason is that I have switched to using metal dies as opposed to cartridges.  For the longest time I was using the die cuts just the way they were when I cut them on my cards and scrapbook pages.  I decided to start altering my die cuts to "fit" what I needed as opposed to what I had.  I started doing this because of some smaller sentiment stamps I had just bought.  Here is one of the first cards I came up with: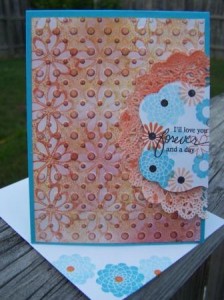 You can see that the sentiment was stamped on a die cut that was cut in half.  If I were to use the sentiment stamp on the whole die cut, the sentiment would have been lost.
Since this first card I have experimented with more of the die cuts that I own.  One of the best things about this little experiment is that I may have just doubled the amount of dies that I have without spending additional money; and that makes any crafter happy.
This year I decided to make Mother's Day cards for a few very special mothers in my life, I decided to challenge myself even more on these cards:
On the one card, I die cut the circle and then I stamped a script image on it and then used an impression plate to emboss it and give it a little texture.  The other die cut was a butterfly and I clipped it to the circle with a small clothespin…the clothespin also was used as the butterfly body.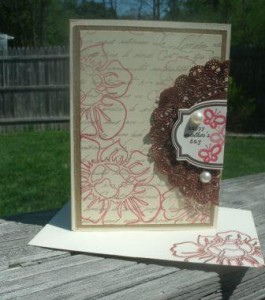 The second card mirrors the first card that was shown above with a die cut that was cut in half and the sentiment stamped on it.  I didn't just cut the die cut in half on this card…I also cut the doily in half as well and sprayed it with Glimmer Mist.
Another great way to get more mileage out of my die cuts is to layer them on a card together.  I used to be afraid of using too many of anything on my cards, now I know that if I use them the correct way together, they actually complement wach other as opposed to competing with each other for the focal point.  Here is a card that used four different dies: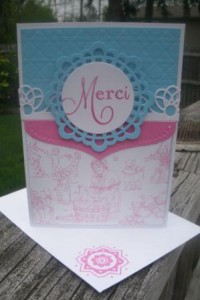 The last card is using the metal die to cut a window into my card:
This technique works well when you want to draw attention to a special sentiment or image.
Debbie Ward has been paper crafting for many many years. She loves to create cards, scrapbook pages and altered items. She designs for a local scrapbook store, Hannah's in Antioch Illinois.