~ * ~
This article is written by Barbara Rankin 
Barbara shows you how to take a wooden bird, a simple coffee filter, some jewelry findings, and die cuts, then combine them with ColourArte Silks Acrylic Glazes and other mixed media, to alter this sweet little steampunk-style home décor piece.  These techniques can be used for any project and will help you have a better understanding of how to apply them in your art.
This little wooden bird is going to take on a new life in Steampunk world.  I found this little guyby Art Minds in my local craft store.
Remove the screw eye first.  Tear a coffee filter into strips and adhere to bird with Mixed Media Adhesive.
Paint bird with ColourArte Silks Bolivian Blue and beak with Silks Harvest Sol (mixed with a bit of Silks Mango Mama)acrylic glazes. [www.colourarte.com]
Add a wash of ColourArteSilks Mallard Green to the breast, tail and wing feathers for a bit of highlight.  It is subtle but effective.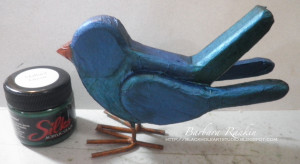 Adhere a 6" x 7" piece of Ranger foil tape to a sheetof silver metallic cardstock. Die cut four wings and two crowns with the Cuttlebug Cut N' Boss folder. I also cut out two hearts, not shown in photo. Trim lower portion of one of the wings for each side, as shown.
Apply DecoArt Metallic Lustre Iced Espresso to crowns and Black Shimmer to wings.  Add ColourArte Silks Rusty Mauve to one heart, thenhit high spots with black archival ink (Noir Black Palette Hybrid ink used).  Add metal bling to crowns and shape crowns and wings with fingers.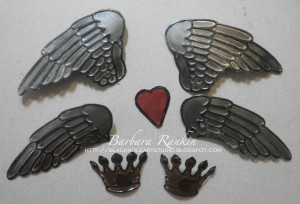 Begin adding embellishments to the bird.  Adhere two wings to each of the bird's wings, layering one over the other.  Join the two crown pieces, shape and adhere to the bird's head.  Add jewelry finding with black gemstone on each side of head for eyes.  Add curved tubular beads to each side of the bird's tail feathers.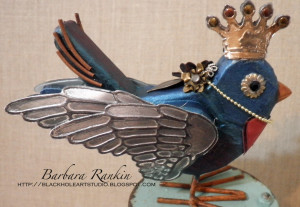 Glue tiny bead chain with "Seeds" charm around bird's neck, gluing bead chain together on top.  Cover the glued join with Tim Holtz's Ideaology metal flowers and leaves.
Here are two side views of the finished altered bird.  Isn't he adorable!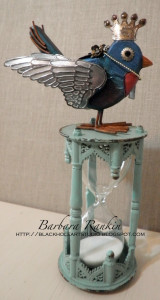 ~*~*~*~*~*~*~*~*~*~*~*~*~*~*~*~*~*~*~*~*~*~*~*~*~
Barbara is a mixed media artist who loves to teach.  She loves to learn new techniques and to share her knowledge with other artists.   She is a contributing artist in a book:  Make it in Minutes: Mini Albums, and has been published in several paper and online magazines.  She is currently on fourdesign teams, ColourArte, Sin City Stamps,Altered Pages, and Gina's Designs.  She has served as a design team member for The Robin's Nest and Creative Paperclay®, as well as guest designer for Craftwell USA, Unruly Paper Arts, and Gina's Designs.
She lives in the Memphis, Tennessee area with her very supportive husband of 32 years, and her two Yorkies, Chloe and Zoe.
You can see more of Barbara's work on her blog at Black Hole Art Studio or via Facebook – Black Hole Art Studio
~*~*~*~*~*~*~*~*~*~*~*~*~*~*~*~*~*~*~*~*~*~*~*~*~
.

.