~ * ~
This article is written by Gloriann Irizarry
Welcome back and hola to all my wonderful followers, collectors and friends.  It's Gloriann Irizarry here to show you how easy it is to use household items like LED lamps to light has an armatures to light up your paper sculpt projects.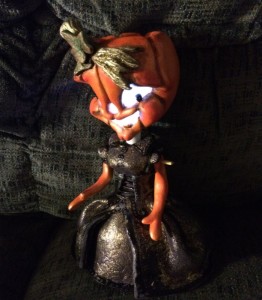 I have to say this is a great way to enhance any project and to give is a little bit of pizzaz to any sculpture. I do have to thank one of my wonderful friend and amazing Folk Art artist Mr Patrick Gill. He create the most amazing art challenges and welcomes us artist to create pieces. His group Every Witch Way Lane is full or great artist whiling to lend a hand and guide you through the sculpting process. His group can be also found under #EWWL. His guidance was my inspiration for this piece Jack O Lantern or in my case a Jackie O Lantern .
Now let me show you how I sculpted this piece and what I choose to be the lighting source will make you look at house hold items differently from now on.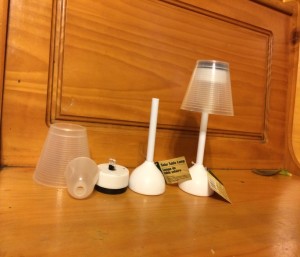 Now let hunt down some LED battery operated lamps. I like to start any search at my Dollar Tree Store and could not believe it I could not believe what a find. I found these great solar LED desk lamps and I couldn't resist them. I have to say this one was a big successful hunt.
Let purchase a few for this and future projects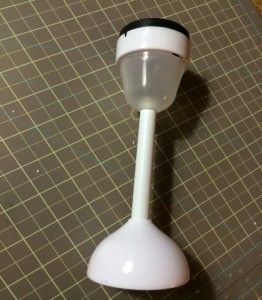 I start by taking the LED lamp apart. I will not be using the top lamp shade only the lamp, post and the base. So I discarded those out.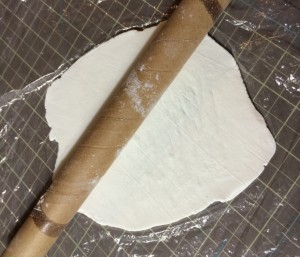 I grab a pack of Creative Paperclay and roll the clay  into a ¼ thick sheet. I recycled a old thick wrapping paper roll and used it to roll the clay sheet.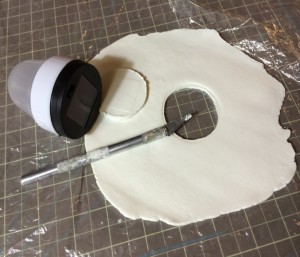 I decided to create a folk art Jack O Lantern. Use the clay sheet and cover the top of the lamp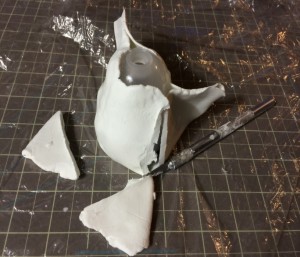 Pinch the clay all around the top of the lamp make sure you cut any excess out and smooth all the edges with water to make it easy to work with.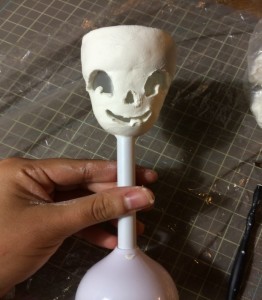 For the facial expression I wanted her to bring a smile to you.
To give your sculpt the smile you're looking for grab a sewing needle and free hand cut the eyes, nose and mouth off. Remove any excess paperclay.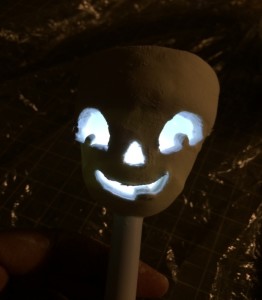 Make sure the head smile is what you're looking for test it by turning the lights on.
I did turn mine by covering the solar panel. It looks good!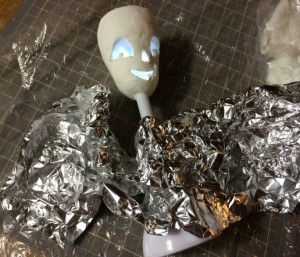 While the head dries you can start working on the dress.
I grab the aluminum foil and sculpt a dress form.
Use has much foil you want to create the desire shape you are looking for. Press, twist and turn until you are completely satisfy with the form.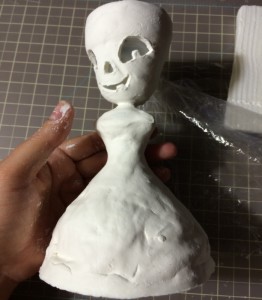 After your satisfy with the aluminum foil form cover completely with a rolled ¼ thick Creative Paperclay sheet and let it dry completely to create the base for your Jackie O Lantern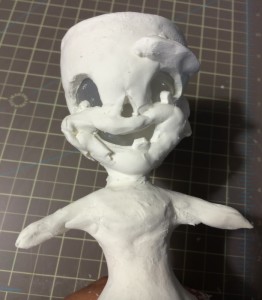 While we wait for the dress core to dry I work sculpting the face. I add a little more clay on the eyebrows, cheeks and jaw. Moist your tools or fingers and smooth the clay by moving in place little by little. Add a little more or take some out depending on your taste.
I like to add clay little by little and let the sculpt speak to you. For the most part it will tell you when to stop adding or removing Creative Paperclay.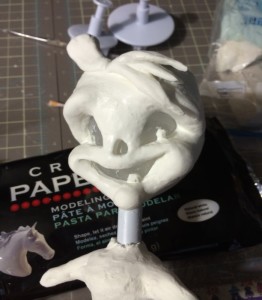 I added a more clay and move it in shape to create the desire smile. You can make if chunky or thinner is all up to you. Just make sure to smooth all the clay edges with the water bottle or with the soft wet brush blender.
The key to add more character to any piece is the on the details. So focus on these to give your sculpt your signature style. For this piece I wanted to give her a female look by adding some hair bands and little stomp hat.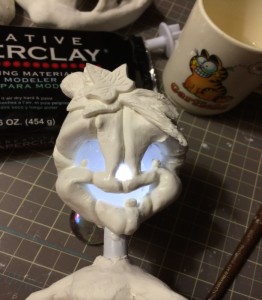 I'm not quite done yet my friends. I wanted my pumpkin head to look natural and spooky at the same time, so I created the pumpkin vertical seems and I also added some more detailed to the head. Like a couple leaves to decorate the pretty root hair bands.
Add a couple wrinkles here and there. This will give your folk art paperclay sculpt the spookiest and unique character ever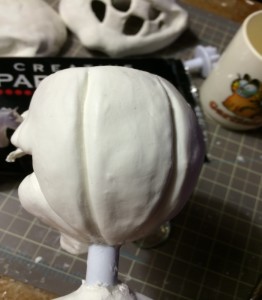 I also smooth the edges all around the head to make sure is all round a plump. This will give Jackie O Lantern the pumpkin look you are looking for.
Make sure your leaving the solar panel cell free from shadows and excess clay.
You have to remember this solar panel is the one will recharge your batteries to illuminate the Jackie O Lantern face.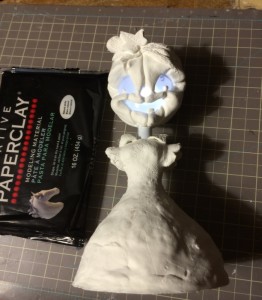 I waited for the dress form to be completely dry to start giving the dress the neck and sleeves.
Add a little more clay to create the top. I added texture to the dress by pressing the lace fabric to the ¼ thickness sheet. This will give a nice fabric finish to the dress.
Do the same for the skirt. Roll a long enough piece of paperclay to cover the entire skirt.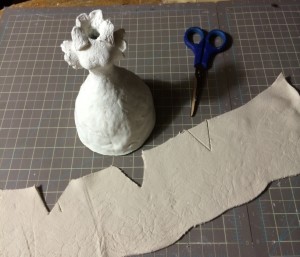 Now to make sure the skirt flow naturally I cut start by cutting some triangles off from the top portion of the skirt to remove the excess material off.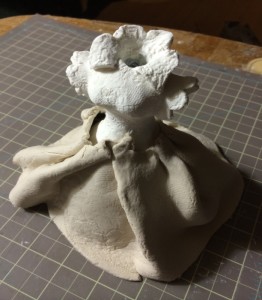 Applied the skirt to the sculpt and adjust the sheet to flow naturally and press the dress edges smooth to the waist. Don't worry much about the look once the skirt is dry and set you will cover the waist with a thin sheet in shape of a corset.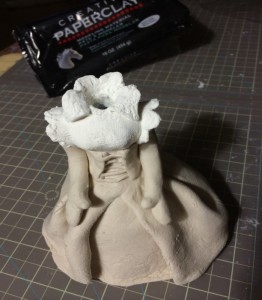 Here you can see the final simple corset piece I made to cover the imperfections of the skirt.
Don't forget to give her a set of arms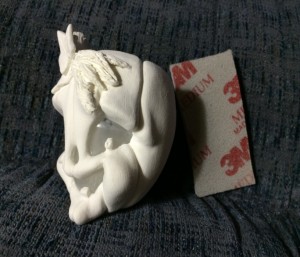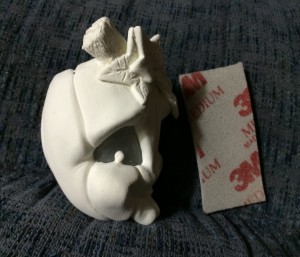 I like to sand the piece in stages with 3M sponge sanders.
I start the shaping with the medium size grit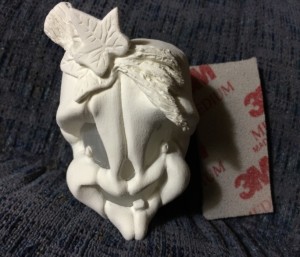 When sanding the pumpkin head sand it vertically so the lines can look naturally once the piece is painted. I like the stress effect this type of sanding gives to the final sculpt.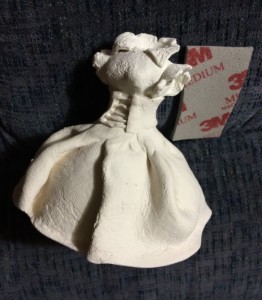 Lightly sand the any imperfection or clay excess of the dress and even out the stand.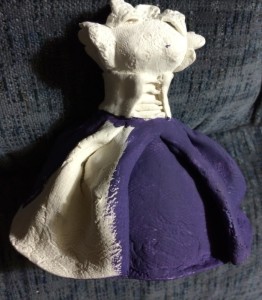 I mix myself some red and blue to create my very own shade of purple and apply 2 coats of acrylic paint to the entire dress.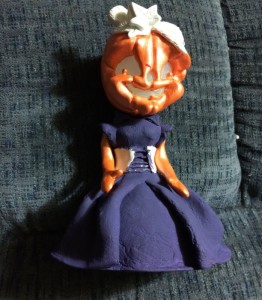 I wanted to give a nice sheen to the pumpkin head so I used the Martha Stewart pearls orange. I painted the stumps pearl green and accented with a brown dry brush.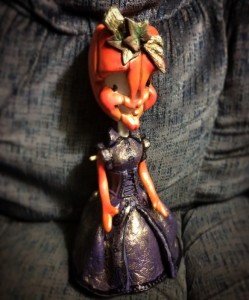 Add more sheen to the dress with Martha Stewart gold glitter.
I glued a stick to the shoulders of the doll to hold the arms in place .
I also use the black acrylic paint to give her some accents here and there.
Use some pink acrylics to blushed the cheeks with the dry brush technique.
Let the paint dry overnight so you can seal your sculpt with a nice spray sealer and the piece is ready to be display once it is all dry.
Now it is time for you to display your new Jackie O Lantern.
Well I hope you enjoy this article and if you have any questions or concern please feel free to send me an email at gloriann@byglori.com
Feel free to like or comment on this article below.
Have a bless day and like always have fun crafting.
Sincerely Gloriann Irizarry
~*~*~*~*~*~*~*~*~*~*~*~*~*~*~*~*~*~*~*~*~*~*~*~*~
My name is Gloriann Irizarry. I was born and raised in the beautiful Caribbean island of Puerto Rico. Ever since I can recall, I always had my hands on crayons, scissors and paper. My parents knew from the start how much I love to create!
As a mother of three young wonderful daughters, I find myself working, caring for my family, and taxiing kids from here to there for various sporting events.  I have to say I'm never bored!  I enjoy every little moment I spend with my girls, but will always continue to work time to create art into my daily schedule as that means doing what I love the most. My girls are learning the joys of creating also!
I love to sculpt and will never stop creating. I was born this way and for that I thank GOD every day. Art has been a great way to be creative and to express myself.  I like to keep my hands busy creating – whether it is unique jewelry, art dolls, oak sculpture figures, fairy wings for all your project needs, or even wigs and clothing for your sculptures.  I love all the variety in art! Why? because ART is so rewarding. Seeing your creation take form is an awesome feeling.
You can see more of my work on my website – ByGlori
~*~*~*~*~*~*~*~*~*~*~*~*~*~*~*~*~*~*~*~*~*~*~*~*~
.

.