~ * ~
This article is written by Kim Kelley
Today I am going to show you a canvas I made using a digital image and Copic markers. I love to create a canvas that has not only texture but depth to it as well. Adding a digital image or a stamped image that has been "stamped" several times and layered allows me to do this.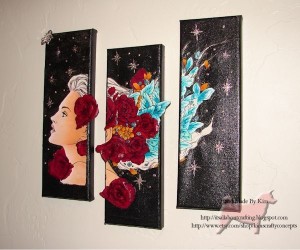 I started with 3 3" x 12" canvas' and applied some matte gel medium all over, including the sides.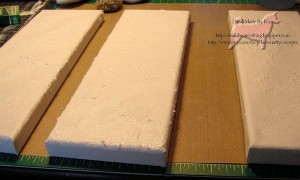 Canvas with medium
I chose "Beloved" from Aurora Wings.  I chose a digital image that I could blow up enough and would not become pixelated. And one that was large enough to expand across the 3 pieces of canvas. I printed it 4 times so that I could have my layers. I colored the images with Copic markers trying to make sure each section was similar in coloring so that it would flow after I added it to the canvas.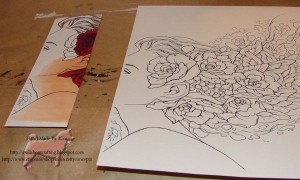 Printed digital image
After figuring out I wanted the canvas pieces to be offset I laid my image across the canvas' to get the right measurements and cut it. I adhered it to the canvas with more matte gel medium and let it dry for a few hours.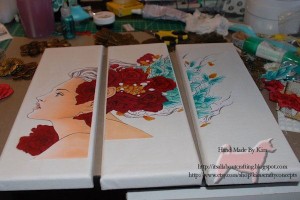 Image on canvas
After the drying process I started adding my extra layers. I chose to pop up some of the flowers and butterflies. And had some of the pieces even extend over the edge. I glued them on with Tombow glue.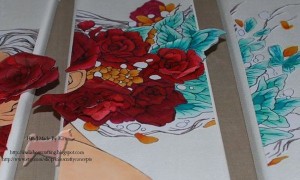 I decided I wanted to have a big contrast between the background and the image, so I mixed some black acrylic paint, iridescent acrylic paint and matte gel medium together for my background. Using a sponge I added the mixture, even going over the edges of the image a bit, leaving some of it in peaks. After that dried I added some stars using Stickles and added a jewelled flower that I cut in half.  I felt that is needed a few more flowers so I cut a few more out and added them. Then using some Mod Podge I sealed the entire project, adding some glitter sprinkled around.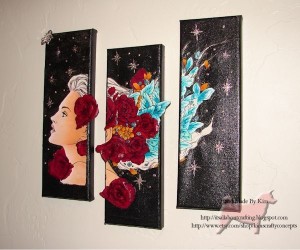 Finished project
Couple of tips:
When doing layers, color the back of each layer as well.
When adding an image you color the edges.
With flowers, you can use a pen or stick to curl the petals.
Life is short, do something creative every day!
~*~*~*~*~*~*~*~*~*~*~*~*~*~*~*~*~*~*~*~*~*~*~*~*~
Kim Kelley is borderline obsessive about her crafting and her art. She loves mixed media art because you are free to go beyond your comfort zone, using your imagination and exploring an anything goes mind set. Kim loves to learn and explore new techniques and hopes that any art she creates leads someone to find their inner creative artist!
Sites: itsallaboutcrafting.blogspot.com and www.facebook.com/kimscraftyconcepts
~*~*~*~*~*~*~*~*~*~*~*~*~*~*~*~*~*~*~*~*~*~*~*~*~
.

.