~*~
It seems like this time of year brings out everyone's creativity and we get a chance to show off our crafting skills by making greeting cards, Christmas decorations and Christmas Ornaments. This lets us share our passion with friends and family. I have been scouting the internet to find ornaments that we can make with our mixed media supplies and put all of those mixed media techniques to good use!
Here are my Top 5 Mixed Media Christmas Ornaments:
1. Paper Ephemera Ornaments
Being avid mixed media artists, we all have a huge collection of paper ephemera, old book pages, painted backgrounds and maybe even a few Gelli plate prints lying around. This tutorial by Shelley Detton, over at 7 Layers, shows us how to make these Christmas Ornament Spheres using sheet music, red ribbon and some sparkly glitter. She has also included the wordstrips for you to print ~ Thanks Shelley!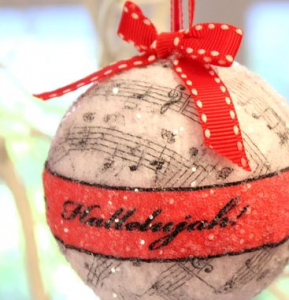 ~*~*~*~*~*~*~*~*~*~*~*~*~*~*~*~*~*~*~*~*~*~*~*~*~ 
2. Cookie Cutter Ornaments
These cute ornaments, featured by Martha Stewart can be made as simply or as lavishly as your creativity dictates. While the glueing will need to be done with care, this is another project to put those lovely ephemera sheets and lovely background on display. You can also use your embellishments to add a little sparkle.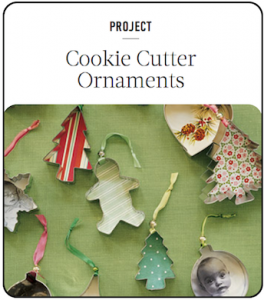 ~*~*~*~*~*~*~*~*~*~*~*~*~*~*~*~*~*~*~*~*~*~*~*~*~
3. Button Tree Ornaments
For those of us that may have a bit of a button fettish, this Button Tree ornament is a "must-try"! Penelope has put together this tutorial to make sure we can all create a lovely little tree.
~*~*~*~*~*~*~*~*~*~*~*~*~*~*~*~*~*~*~*~*~*~*~*~*~
4. Paper Origami Flower Ornaments
If you still have any paper ephemera or gelli prints left over after the previous paper ornament tutorials, Jenn, from Origami Twist has done this video showing how to fold and glue this gorgeous flower ornament. I'm not quite sure if your papers need to be two sided but I am giving this a go soon, so I'll report back.
~*~*~*~*~*~*~*~*~*~*~*~*~*~*~*~*~*~*~*~*~*~*~*~*~
5. Beading Mini Wreath Ornament
If you are looking to use more of your jewelry making skills, Stacy from Beads Direct, shows us how to create these cute little Christmas Wreaths.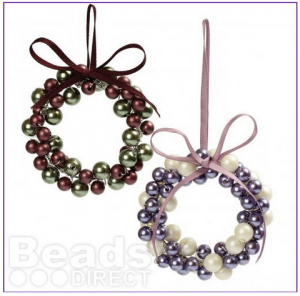 You will need some jewellery wire, a collection of beads and some ribbon. Alternatively if you don't have these materials at hand, you could substitute pipe cleaners for the wire to make the support ring and replace thinner wire with thread to tie the beads into place. You could even mixed beads and buttons to create an interesting wreath.
.

.