This article is written by M. Carmen Sánchez – Cuchy from La almohada
When it comes to play in an artistic way, one of my favourite things is to create backgrounds, testing different products, materials, surfaces… and whatever I had within reach.
And if I play with my little kid while creating, much better.
This is a background technique perfect to do with kids (under adult supervision, due to the use of an iron)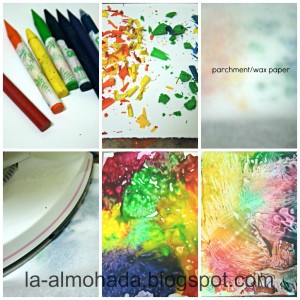 Just grab your kids' wax crayons in your favourite colours and sharpen them. We want the shavings for our project.
Take a glossy cardstock and lay the shavings in a colourful pattern.
Put a piece of parchment or wax paper over it and iron it without steam.
Wait a bit for drying or lift the paper right away. See the different outcomes and texture. I love it.
Now you can use it as it, cut into pieces and use it in other projects, embed collage paper in the wax, or apply the same technique in other surfaces.
I made a bright christmas card. Hope you like it.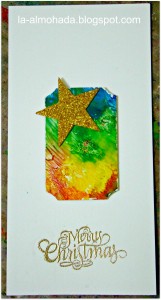 ~*~*~*~*~*~*~*~*~*~*~*~*~*~*~*~*~*~*~*~*~*~*~*~*~*~*~*~*~*~
Carmen Sánchez, also know as Cuchy, is a mainly self-taught mixed media artist who loves to play with textures and layers.
Cuchy is a member of the Kuretake's Design Team, manufacturer of writing supplies, Design Team Instructor of Stampers Best, american manufacturer of rubber stamps and cling cushion mounting foam, and contributor and guest designer in various Spanish and international blogs. She has taught several workshops in Madrid and Barcelona and loves to teach from her own experiences, and encourage the students to think outside the box and put their inner self in everything they create and to achieve a personal and unique result.
You can find more on her blog, her facebook page, or watch her broadcasting live on her Livestream channel.
~*~*~*~*~*~*~*~*~*~*~*~*~*~*~*~*~*~*~*~*~*~*~*~*~*~*~*~*~*~