~ * ~
This article is written by Katja Blum
My son Sam introduced me to bookmaking. He makes lots of books with his speech therapist and loves the process maybe even more than the result. His books can be anything he wants – he can cut, glue, draw, paint, glitter and write. What's not to love?
One of my favorite types of handmade books is the tunnel book.
These three-dimensional books consist of several pages with cutouts of decreasing size. The pages are connected with accordion hinges on both sides. Because of the flexible connection, the pages can consist of many different materials from thick watercolor paper to cardboard. One of my personal favorites is foam board, because it is so easy to hang things from to "ceiling" of the cutouts – and because the book will be very sturdy and not prone to warping.
Making a tunnel book is simple. Design the cutouts of your pages according to the picture or story you want to create. Remember that each cutout will be smaller than the one before, so any designs around the edge of the first page should be on the smaller side, so that you leave enough room for the others.
If you want to create elaborate figures or landscapes in your cutouts, you can always add them later (especially if you use thick, hard to cut materials). Just cut your designs out of decorated paper and leave little paper tabs where you would like to attach them to your cutout frame.
You need two accordion hinges per book page – minus one page. So, if your book has five pages, you need eight hinges.
Cut strips of sturdy paper of the same length as the sides of your book pages you would like to attach. Fold the strips lengthwise into an "M" shape. Folding is easy, if you score the fold lines using a ruler and a bone folder, a butter knife blade or the tip of a knitting needle.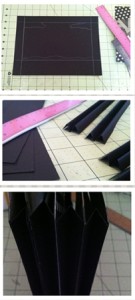 Design, decorate and cut out your book pages and attach the accordion hinges. You can always add more decorations and elements later, as the pages remain pretty accessible.
In the example here, I wanted to highlight several decorative papers I had collected, so I simply covered my book pages with the papers, cut them and added some details.
Tunnel books are fun to play with and add to. Sam likes books about animals. What do you want your book to be?
~*~*~*~*~*~*~*~*~*~*~*~*~*~*~*~*~*~*~*~*~*~*~*~*~
Katja Blum is a writer and translator from Tulsa, OK. As an artist, she started with yarn, fabric and papier mâché (rarely together), branching out into collage and other paper arts about ten years ago. Her latest obsession is making soft stuffies and art dolls – to the delight of her son. She also likes to find creative solutions for ugly or broken things around the house – to the delight of her husband.
You can see more of her work with fiber, paper and words at www.thewaywardsheep.com
~*~*~*~*~*~*~*~*~*~*~*~*~*~*~*~*~*~*~*~*~*~*~*~*~
.

.