~ * ~
This article was written by Katja Blum
Mixed media and jewelry are a great combination – jewelry is a perfect way to take a piece of your art with you in your everyday life, and thinking about the functional aspects and size of jewelry gives you an interesting framework for your creative ideas.
I selected this project to highlight the endless possibilities of mixed media jewelry with fabric and fiber, because you do not need any special jewelry tools or skills to make this pretty bangle. You probably have some pretty fabric scraps lying around, some rope, a few beads … no pliers, hammers and anvils necessary.
You need:
3 pieces of woven or braided rope to fit around your wrist – any thickness, as long as it bends easily. Man-made is fine, but those solid plastic ropes like clothesline don't work well, because you need to be able to pass a needle through.
Duct tape
Assorted fabrics, fibers and beads
Mod Podge, Fray-Stop or PVA glue to treat fraying fabric edges
Needle and thread
Thin craft wire, yarn or thread to wrap around the bangle, if desired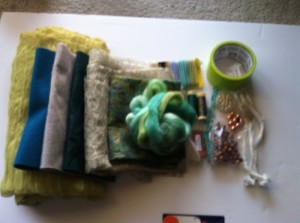 To cut the lengths of rope to size, measure the inner circumference of a bangle you like. If you don't have one, here's how you can measure: Hold out your hand, palms down, fingers together. Tuck your thumb and pinky under, so that they touch underneath the other fingers. Now measure around the widest part of your hand, which is probably close to your knuckles.
Don't pull the measuring tape too tight. The bangle will have a slightly smaller inner circumference once you wrap the fabrics around. You won't lose much though, so 1/4 to 1/2 inch (about 6-12 mm) should be enough extra length.
Cut the rope pieces to size, lay them out together and tape them with duct tape to form a closed ring. The three pieces are just connected at the bottom.
Cut long strips of fabric or use unspun, dyed spinning fiber to wrap each ring, beginning with the two outside ones, leaving the center one for last. Start wrapping at the duct-taped bottom, where the three rings separate. Don't worry about the fabric and fiber ends. Just leave them hanging, they will be covered later.
Dab some Mod Podge or Fray-Stop on the fabric, if necessary. If you are using unspun fiber, covering all of the wrapped fiber with Mod Podge or something similar works best. Otherwise the fibers might come apart with use.
Smooth fabric like the batik cotton here works well for the center bangle. Start wrapping in the center of the duct tape at the bottom, tucking in the ends from the other bangles as you go. When you have wrapped all the way around, tuck the end of the fabric strip into one of the wraps. It will be secured with thread later.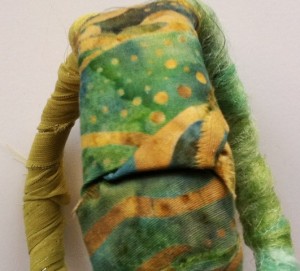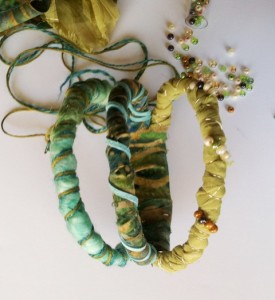 Once you have your triple bangle wrapped in pretty fabric, the real fun starts. Decorate your statement piece to your heart's content. Wrap it with thread, yarn, cord or thin craft wire (no pliers needed). Add beads to the wraps, if you like, or sew on individual beads. Glue or sew on charms, paper flowers, ribbon rosettes…you get the idea.
I had much more elaborate plans for this piece, but once I saw the colors of the fabrics and fiber together, I loved them and didn't want to obscure them too much. Remember to begin all wrapped decorations at the bottom and tuck them into the fabric of the center bangle. When you are done, secure the fabric covering the duct tape and the tucked-in end with a few stitches. If you want the rings of your triple bangle to sit close together on your forearm, sew them together in a few places. A little bit of spray varnish helps protect your paper or other fragile decorations.
Of course you are not limited to three rings, nor do you have to wrap them individually. A five-piece bangle wrapped together (just use the steps for the center ring in this project) would make a terrific background for larger mixed-media decorations. The bangles are fun to wear and so easy to make that you'll have a whole collection of your personal, wearable mixed media art soon.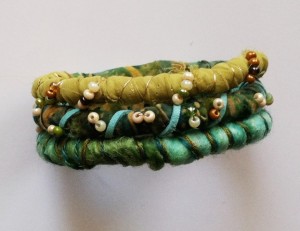 ~*~*~*~*~*~*~*~*~*~*~*~*~*~*~*~*~*~*~*~*~*~*~*~*~
Katja Blum is a writer and translator from Tulsa, OK. As an artist, she started with yarn, fabric and papier mache (rarely together), branching out into collage and other paper arts about ten years ago. Her latest obsession is making soft stuffies and art dolls – to the delight of her toddler. She also likes to find creative solutions for ugly or broken things around the house – to the delight of her husband.
You can see more of her work with fiber, paper and words at www.thewaywardsheep.com
~*~*~*~*~*~*~*~*~*~*~*~*~*~*~*~*~*~*~*~*~*~*~*~*~
.

.