~ * ~
This article is written by Laura Shelton Thykeson
I know that there are many, many artists that make their own beautiful and original greeting cards for all occasions, and they have so many creative ways to do it! I love the variety and beautiful cards I see out there. I wanted to write a short tutorial for those who may be just beginning to venture into this fun field and are maybe looking for some easy tips and techniques.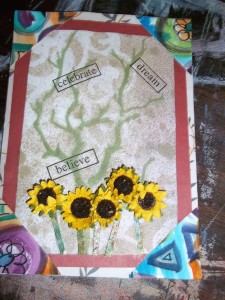 The card I have made may not be to everyone's taste, but I love mixing up colors, textures and designs to really make for an interesting card to look at. It has several elements, but it is really easy once you know the details and instructions.
Materials
Below is a list of supplies you will need:
Blank watercolor card w/envelope, or a piece of cardstock if you would rather work with that. You will have to cut and fold your cardstock over in half to make the card shape.
Bits and pieces of our recycled art, old art journal pages, paint splattered pieces of papers, collage material, pretty paper napkins, stamps (optional), any 3d embellishments you choose. (I chose the yellow sunflowers for added texture, ribbons, buttons, sequins, etc….
Coordinating scraps of "stencil play" pages, scraps of cardstock that may not be your favorites and you won't be using for anything else.
ATC's in abstract, colorful and textured designs, or even postcards you have made that you don't mind cutting up to reuse
Instructions:
After you have chosen your blank watercolor card or made one from cardstock, take your colored papers and glue and layer them on the front page of the card to start your colorful background. This is layer 1. I used a piece of brown paper, with a stencil design of a tree that I had been playing around with in an old art journal.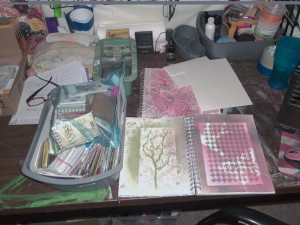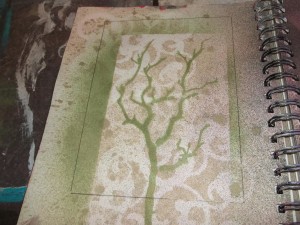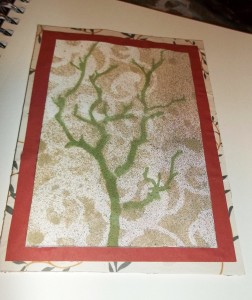 Once that is dry, open up your card and spread glue or your fav adhesive all over both sides of the inside pages of the card. Then take the paper napkin and lay over the glue, pressing and smoothing to get any wrinkles out. It is ok if you have some wrinkling, because the texture is always nice, but for this card I wanted it smooth. Let this dry well.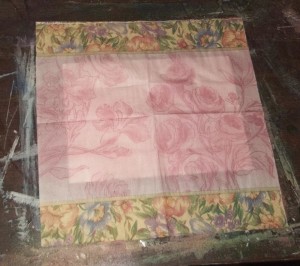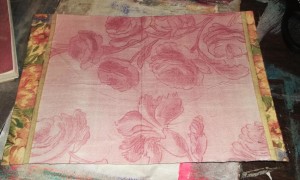 Using your choice of stamps (optional), or if you prefer your own handwriting, add some cool sayings or words on the inside of the card.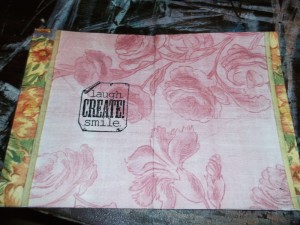 I also ran across another old ATC size scrap of art that caught my eye, and using decorative scissors, I trimmed all around the edges of the card to give it some interest and texture, then glued it to the right side page of the inside of the card to finish it out.
Now, take any old ATC's, collage papers, gelli print papers, etc and cut them into triangles. Take these triangles and glue them to the corners of the front of your card to add more color and texture. If you are using an old ATC, cut it first in half, then cut the two halves into triangles by cutting from opposite corners to make the triangles. Also add some stamped words.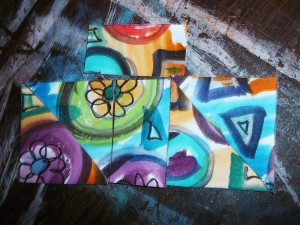 At the bottom of the front page of my card, I cut small strips of abstract, glittery watercolor paper scraps I had painted a long time ago, and glued them on as stems for the 3D yellow sunflowers that I added at the last minute.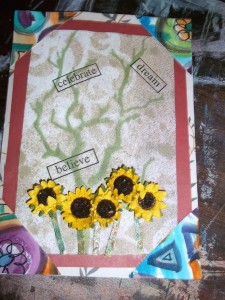 This is a really fun and easy way to make a unique and interesting card for any occasion! Using different papers, napkins, stamps etc, you can fashion it to fit any occasion. I really hope you have enjoyed learning how to recycle scraps into something both unique AND useful!
~*~*~*~*~*~*~*~*~*~*~*~*~*~*~*~*~*~*~*~*~*~*~*~*~
Laura Thykeson has been totally immersed in mixed media art for many years. She discovered altered books and art journals about a year ago and have been hooked ever since! She has always loved mixed media art because of the variety and the "no rules" aspect! Laura lives in Granbury, Texas USA.
You can see more of Laura's work at Taz's Corner
~*~*~*~*~*~*~*~*~*~*~*~*~*~*~*~*~*~*~*~*~*~*~*~*~
.

.