Trying to fit mixed media art into our everyday activities can be challenging – there will always be other things vying for our attention… but when we do finally get that scrap of time together – or even find ourselves with a few unexpected hours ahead of us – how do we use that time effectively? This series of articles will look at tips to help you hit the ground running when you have that crafting time.
Part 4 – Journal Page Ready to Go
Needing to start from scratch with a journalling page or altered book when you have time can also be daunting or frustrating. If you need a background and then need to wait for the paint to dry, time can quickly slipped by and inspiration with it. Having two (or more) altered books or journals on the go can help.
By having two books, you can be working in one while the other is drying. Get into the habit of guessing a page at the end of your crafting session. Then the layout is ready to go when you are.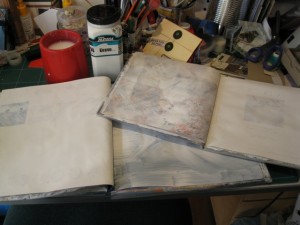 While the gesso is out, also add a layer to a few pieces of cereal box cardboard.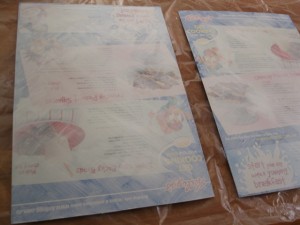 Once the backgrounds are ready, you can jump head first into the fun part as soon as your crafting time starts. Now you can create  your layout with adding colour and papers and images and journalling.
Happy creating!
.

.