Artist Trading Cards (ATCs) are wonderful little pieces of art that are traded between crafters. For a crafting show, ATCs are often traded between other attendees as a memento of the occasion. Sometimes there may be a theme to guide the participants. The challenge of making lots of ATCs for these shows is to keep the design simple and one you can easily replicate many times.

What is an ATC?
Artist Trading Cards are small pieces of art made with the intent to be traded between fellow crafters. There are all manner of groups on the internet that have swaps and challenges based around these cards.
An ATC must be the set size of 2 1/2″ by 3 1/2″ . They are usually in portrait orientation but don't have to be. Besides the size, there are no other rules to ATCs – you can make them from cardboard or fabric or any other thin material. And you can decorate them with paints or stamping or collage or quilting or any other craft you like.
The back of the ATC is to contain your details, like a business card would. Your name and e-mail address (or postal address, if you wish) is  a minimum. Sometimes the title of the ATC, or theme or occasion, and it's number or edition is also included.
There is one other rule regarding ATCs – I have been always told that ATCs are only ever for trading and never to be bought or sold. Some crafters will create what are called ACEOs (Art Card, Editions and Originals), which are ATCs to sell. I believe that is against the spirit in which ATCs are created.

Key points to making lots of ATCs
– Start with large sheets of card (12″ x 12″ or A4) which can easily be decorated to make the background and then cut to size
– Stamping allows you to reproduce the same image many times
– Consider embellishments like punches or cutter dies that can create lots of the same in a short amount of time and for little cost
– They don't all have to be exactly the same; if making cards to a theme, you can still alter the colour or type of some elements
– Instead of written your details on the back of many ATCs, use your computer to type out your main details (name and e-mail address) then cut and stick these to the back of your ATC. You can then sign it.
How I make lots of ATCs
1. Use walnut ink or tea or coffee stain to antique many sheets of card for the background. Use the same method to antique sheets of text from an old book or conference proceedings (if the sheets curl, place thereunder a heavy book to flatten, after they are dry)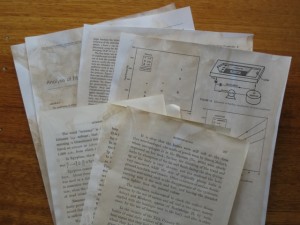 2. Using a large background stamp, cover the background card (lots of small stamps will also create the same effect)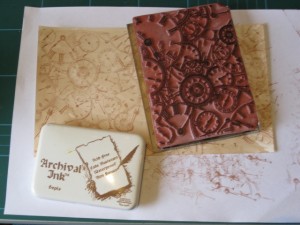 3. Cut background card into 2 1/2″ by 3 1/2″ piece
4. Cut the text pages into 3 1/2″ strips. Then tear them into smaller strips at about 1/3 of ATC width. Use a brown or sepia ink to sponge the torn edge of each piece.
5. Glue text strip to backgrounds using a glue stick
6. Add image or embellishments: I cut these T's using  a puzzles cutter.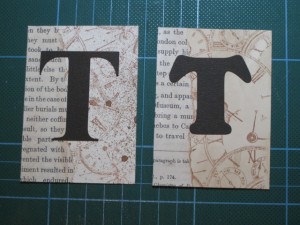 7. To finish the ATC, edge the entire card, using the inked directly onto the edges and stamp "time" using alphabet stamps in a lighter colour.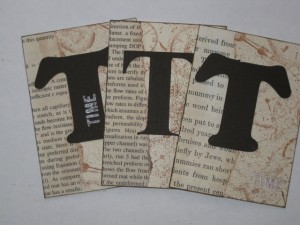 8. Don't forget to add your details onto the back. This can be done my hand, using a ATC template stamp or using your computer.
The final part of ATCs is to go and swap them freely. I will always remember one of my first craft shows I ever attended and I didn't know anything about this swapping thing. Many ladies were very generous and happy to give me an ATC when I had nothing to give in return. And this is the spirit in which I attend craft shows today.
If you are a little shy, place your ATCs in a plastic bag and use a safety pin to attach them to your carry bag or jacket, then anyone else who has ATCs can see you have some and you can start a conversation. Some craft shows will have a time and place that people can meet up to swap.
And remember the spirit of ATCs – if you are going to a show where you are going to meet people you know, you can make some special ATCs for those people, but keep them separate, so they are easy to find and you don't accidentally hurt someone elses feelings. I have heard of occasions of some people refusing to swap their ATCs when they see the other persons ATCs and it didn't meet their standard. Thankfully these incidents are few and between but remember that we all had to start somewhere, so be generous with your ATCs.
Happy Creating,
Michelle
.
.
.