~ * ~
This article is written by Gail Green
I recently discovered some super cool new chipboard kits that TOTALLY got my creative juices flowing! They are made by a new company Eye Connect Crafts, who have definitely designed some of the most unique embellishments around.  Made from recycled, environmentally conscious chipboard for a reduced footprint, Eye Connect Craft's kits are just perfect for mixed media projects. And they simplify the process by doing some of the difficult work for the crafter.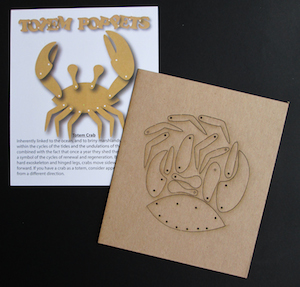 Here 's the skinny!
"Totem Poppets" are multiple component kits that appear to be very easy to use for all ages and skill levels. With pre-punched holes and multiple body parts, they can be used by children in school projects, as well as for imaginative play. I love that animals are the main theme and can see their potential in helping raise awareness of nature and teaching respect for all living things. At the same time, adults can create interesting embellishments for Mixed Media art, craft and/or home decor projects.
What is especially unique about Totem Poppets kits is that the components are assembled in a way that allows realistic posing and movement. They totally remind me of marionette puppets!
Another group of kits–appropriately named "Lace ups" also have the holes already perfectly positioned and punched on each piece so all crafters have to do is decorate and lace them up with ribbon, leather, fibers, string, wire and more.  These items are SO perfect for Mixed Media projects, my head started swirling with creative ideas the minute I saw them!
Both types of kits provide the user with a blank canvas…which means mixed media artists can use a variety of mediums or combination of mediums and techniques to decorate them. I don't even know where to begin because there are so many possibilities!
All kit items can be painted or sponged with ink. Add decorative designs with stamps, stencils, draw doodles with pen or marker or decoupage layers of torn paper, tissue, magazine pages, and other paper items.  In reality, the sky is the limit when designing with these kits and creating all types of mixed media projects.
While I wanted to make a bunch of finished embellishments, I had to settle on just one for this article. IÕm thrilled with how it came out. In fact, I was SO inspired I decided to make two versions–one on each side!
Here are just two examples of how easily a Totem Lizard can be decorated using multiple mediums.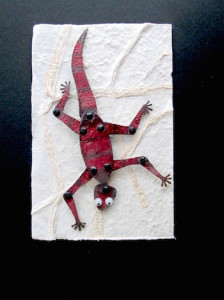 Using a cosmetic sponge (or Art Daubers) and the straight edge of a scrap of card stock for a mask, gently sponge irregular stripes on each body piece using ink, acrylic paint or another quick-drying medium. Choose multiple colors in related or contrasting tones/hues, as desired. (Note: If possible, avoid mediums that over-saturate or require long drying times.) Dry completely before embellishing or assembling.
Or, you can heat emboss with clear embossing powder and ink in a related color family or value. Begin by base-coating the pieces with ink or paint. Next, apply colorful pigment ink in sections and heat emboss one color at a time. You can do this step either assembled or unassembled, as you wish. My Lizard was already assembled so I did this version assembled. While it was a little tricky to apply the ink, it was easier to hold when using the heat tool. I used a Colorbox PetalPoint pigment inkpad so I could take each color section out and apply it direct-to-paper (DTP). If you choose to use full size inkpads, I would recommend doing this project unassembled and/or applying the ink with a tool like an Art Dauber or Color Blender.
When dry, assemble all the pieces using tiny brads or eyelets. If desired, add dimensional elements by gluing on beads, wiggle eyes, or glitter. I used dimensional paint to add accents on the heat embossed version. You can also draw patterns on the pieces using a waterproof pen in a doodle, stylized or Zentangle style.
Add the finished Lizard to a journal cover or scrapbook page or use to decorate a gift, frame or a dozen other possibilities. The sky is the limit on how many types of mixed media projects you can create with products from Eye Connect Crafts!
For more information of where you can purchase these fun kits and products, please visit the Eye Connect Crafts website.
~*~*~*~*~*~*~*~*~*~*~*~*~*~*~*~*~*~*~*~*~*~*~*~*~
Gail Green is a Chicagoland craft book author and feature article writer/columnist for Scrap & Stamp Arts magazine. Known as the Òdesigner in the hatÓ and creator of the Sweet PETatoes art brand, Gail has licensed her illustrations on products in multiple global markets, including her own line of rubber stamps with Impression Obsession. For more information, please visit her ETSY store or blog for fun adventures with Ollie, Gail 's crafting parrot and his pet doggie, Lacy Lulu.

~*~*~*~*~*~*~*~*~*~*~*~*~*~*~*~*~*~*~*~*~*~*~*~*~
Disclosure: These products were supplied by eye Connect Crafts for the purpose of review. All opinions are that of the MixedMediaArt team.
.

.