This article is written by Anjuli Johnson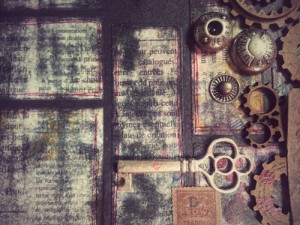 I have been a fan of Tim Holtz for a loooooong time.  I mean, who isn't, really?  His lines of scrapbook and art supplies are just delicious, especially to a steampunk fan who loves to add text to most of her projects, whatever they may be.
One of his products I've been dying to try was his configurations line- book boxes that are filled with interchangeable compartments.  These books are perfect for altering in just about any way possible, including my choice- a jewelry box.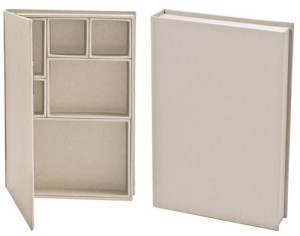 After altering the cover with lots of paper (notice all the text? I can't help myself!), ink, chipboard, and paint, I used paper and fabric to line each box.  Using rolled up strips of the same fabric made my ring holder quite easy to assemble.  I didn't even have to use glue- the pressure of the fabric rolls holds everything together, including however many rings I may end up adding to my jewelry collection.
I'm so pleased with how this one turned out, that I think I'll make 2-3 more and instead of having them lay flat on my dresser, I'll mount them on the wall and add jewelry hooks.  At first glance they will look like a range of my favorite books hanging on the wall when in reality, it's the rest of my jewelry nestled in unique little boxes, organized and adding quite a bit of charm to my little corner of the house.
~*~*~*~*~*~*~*~*~*~*~*~*~*~*~*~*~*~*~*~*~*~*~*~*~
Anjuli Johnson is a Mixed Media Artist from Raleigh, NC.  She began her art career as a scrapbooker, and it's been an evolutionary process every since.  She loves all things mixed media- paper, glue, paint, canvas, pens, wire, gears… the list goes on and on.  She is constantly trying to push through her fears to discover and develop her talents, meet new people, and learn from those around her.  TheFarPavilion
~*~*~*~*~*~*~*~*~*~*~*~*~*~*~*~*~*~*~*~*~*~*~*~*~
.

.