This article was written by: Melanie Statnick
~ * ~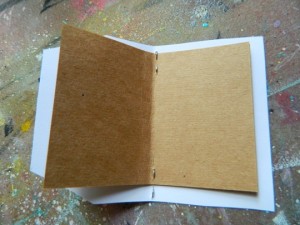 These have to be the cutest thing I've seen yet. Little story books or note books made from tags. I used some scrapbook paper and Kraft paper with collaged images to make a little books. This first one is about The Fish King.  Gather tags either pre made or shape to cut. Use any type of paper in between for your pages.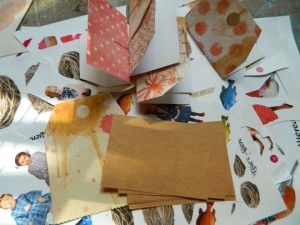 Fold tag in half, you'll use the string to wrap your book. Cut and fold blank pages to size and staple to the inside of your tag. Cut assorted images and words and glue them onto your pages to create or story or note book. You can use the front and back of each one or use just one side.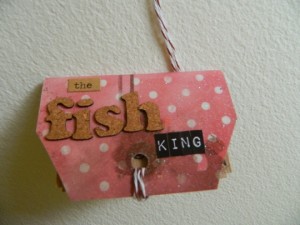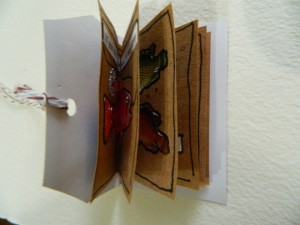 Don't forget to decorate your cover. These are so cute and quick, you can make a dozen in a day. Have fun and be creative! I used a micron pen to outline the pages and images and added scrapbook gems to the images for a little sparkle. I also used a hole punch because I cut my tags from scrapbook paper.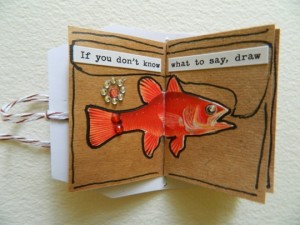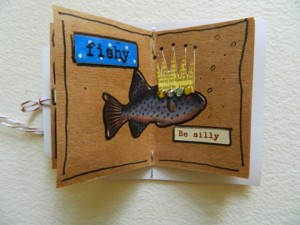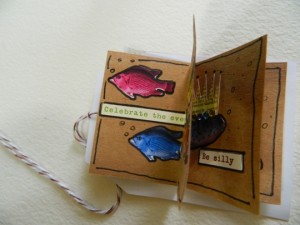 ~*~*~*~*~*~*~*~*~*~*~*~*~*~*~*~*~*~*~*~*~*~*~*~*~
Author bio: Artist Melanie Statnick is a Published Artist/Writer out of North Carolina who writes and creates art daily from her private studio. Melanie is also the host of her own video production The Brush & Pen visit her website at www.melaniestatnickart.com and sign up for a monthly Newsletter.
~*~*~*~*~*~*~*~*~*~*~*~*~*~*~*~*~*~*~*~*~*~*~*~*~
.

.