Creating a mixed media art journal page uses many of the mixed media techniques we have discussed previously. Art journalling give you a chance to bring all of those techniques together to create a piece of art that is uniquely yours.
Start with a book ready for altering, a sketch book or a notebook. Open to a new page and give both pages a good coat of gesso. Remember to be aware of the brushstrokes or scratchings you put into the gesso; these will still be visible and add texture to the finished design, after the paint has been added.
Next add some colour. Here I've chosen a green and a purple, both craft paints. They have been added at a diagonal, using first a dry brush, then a wash after the first layer is dry.
To tie the two colours together and to "dirty" it up a bit, add a little black paint, using the edge of a credit card to create thin lines.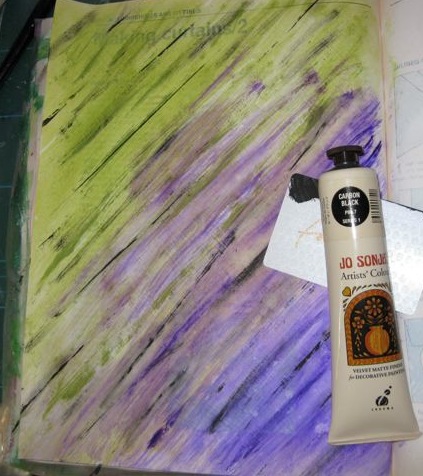 To add further layers, paint on some tissue paper with matching colours and tear into strips. These can then be stamped and edged with black ink. Glue these onto the page. Ink used here is Brilliance Graphite Black. Stamps are from See-D's Perfectly Paisley set (#50326).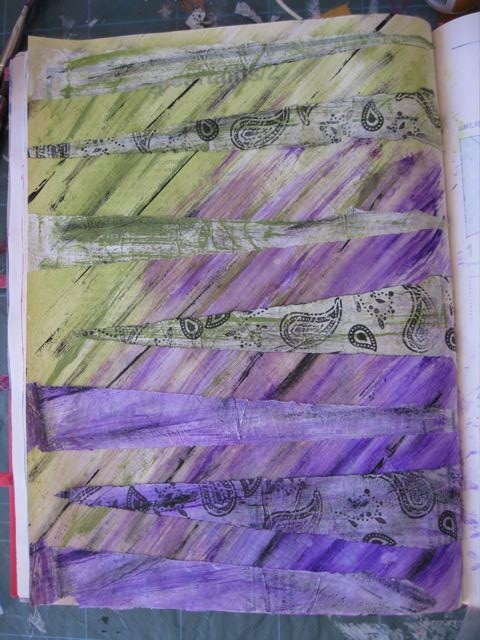 Now your page is ready for journalling. I have used a white and a black gel pen of the Uni-ball brand. Both wrote well and dried on the paint. Take care when writing onto layouts; you may need to heat set your writing with a heat gun. Also some pens don't write well on gesso.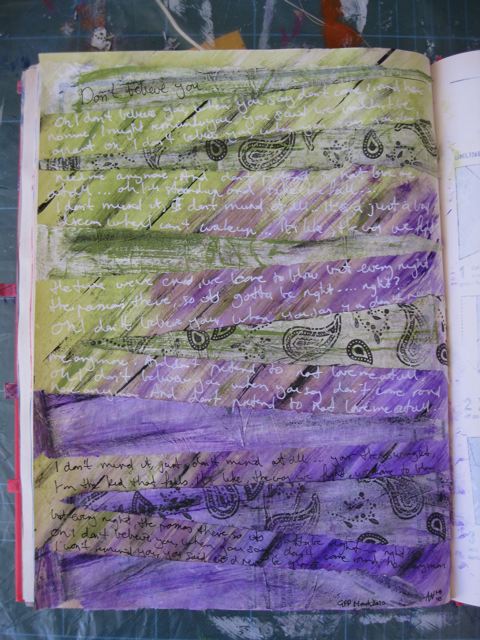 The brilliant aspect of art journalling is that you can write about anything; it does have that journalling aspect to it! Lately I have had the words from Pink's song "I don't believe you" going through my head. I have written the words out, as best as I can remember them. And like any song that just keeps going through our heads, I may not have started at the beginning, or finished at the end, or repeated the right bits…. but it is a reflection of the melody that is flowing through my brain.
I hope this introduction to art journalling will inspire you to give it a go. If you have completed some mixed media art work or altered book before, then the step to journalling is taking faith in your handwriting and what you want to say. If you are just beginning, then the best way to learn is to get started, start painting, start stamping, start writing. Only then will your skills grow.
And remember that this is for you, so choose the colours and images you love. You don't need to share it with anyone. And don't worry about your handwriting ~ while you may not like it, it is a part of you and that is what we are putting into our journalling.
If it all goes really bad… you can always gesso over it and begin again. But please sleep on it first; you may be surprised how a fresh set of eyes can appreciate your own work much better in the morning!

Happy creating!
…