~*~
Melanie Statnick has put together the materials list and instructions for these cute mini houses.
Supply List
To create your own village, you will need:
Wooden houses
wooden pieces including hearts, tags, bingo tiles, fence , rulers.
Tissue paper,
decoupage,
flat brush/glue brush,
glossy accents,
letter stickers,
Walnut Ink Spray
a heat gun.
Instructions
Step 1. Decoupage tissue paper to wood houses. Apply glue directly to wood. The tissue paper will move around and might rip. This is the look we are going for. Grungy, wrinkled look. Dry with heat gun and set aside.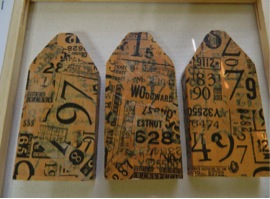 Step 2. Spray all wood pieces with your Walnut Spray Ink. Dab with paper towel and dray with heat gun. This will the wood an antique look with some grunge.
Step 3. Using glossy accents glue fence onto front side of your houses and continue with the other wood pieces. You can arrange them how you like.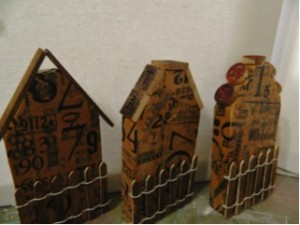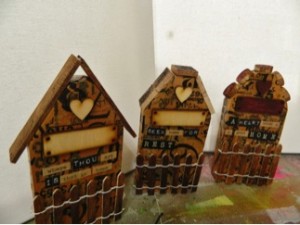 Step 4. After your pieces are glued and dried, you can now add your word art. Last use Glamor Dust, Liquid Pearls, or Stickles to add details.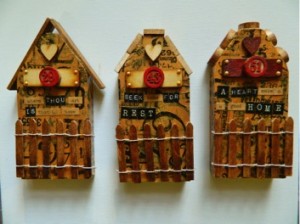 Happy Creating!
~*~*~*~*~*~*~*~*~*~*~*~*~*~*~*~*~*~*~*~*~*~*~*~*~
I'm a Canadian Mixed Media & Collage Artist out of North Carolina . I create art daily from my private studio and my artwork is fun and whimsy . I teach mixed media and art journaling online  and I hold mixed media workshops around the USA.
My artwork can be found in art galleries and shops extensively in NC with international private collections. I have created my personal line of original stamps to purchase and use in your art.  Look in my Etsy shop for my line.
Please visit my website to learn more about me and my work at www.melaniestatnickart.com or become fan on Facebook.
~*~*~*~*~*~*~*~*~*~*~*~*~*~*~*~*~*~*~*~*~*~*~*~*~
.

.