~ * ~
This article is written by Anjuli Johnson
As a self taught artist, I would say that I've experimented with a lot of paint.  Watercolor, oil, gouache- but I always come back to acrylic.  There's so much to love about acrylic paint- how different brands react so differently to certain techniques, the fact that it dries fairly quickly, and especially how it reacts to water.  My spray bottle is one of the most used tools in my studio because of how often I use water and paint to create acrylic backgrounds for my mixed media paintings.  I have 3 paintings to show you, and I'll outline how I created the backgrounds for each one.
Magnetism- For this piece, I began with a dry canvas.  I used red paint on one corner, orange on the other.  I brushed the paint closer to the center without the two colors touching, and then used my spray bottle over the entire canvas.  The water is what brought the two colors together in the center of the canvas, and I tilted the canvas a little each way until I was satisfied with how the colors were blending.  If you start with a dry canvas, it may take some extra effort to get rid of any brushstrokes, which may or may not be a concern for you.  I don't usually like to see my brushstrokes, so I'll continue working until the water has blended the paint smoothly into the canvas.  One tip- this brand of acrylic paint is Liquitex Basics, which was an essential factor in achieving the lightning type blending you see here.  Other brands do not react the same way, which I find incredibly fascinating.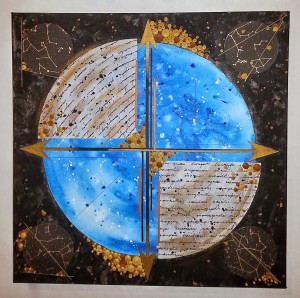 True North- With this piece, I misted the canvas slightly before I began.  As you can see below, I used greater concentrations of paint in certain areas and worked until, once again, all the brushstrokes have disappeared.  I added some splatters of white and blue paint to add more color, which react with the water to blend slightly with the paint around it.  Super cool!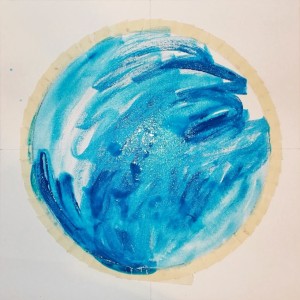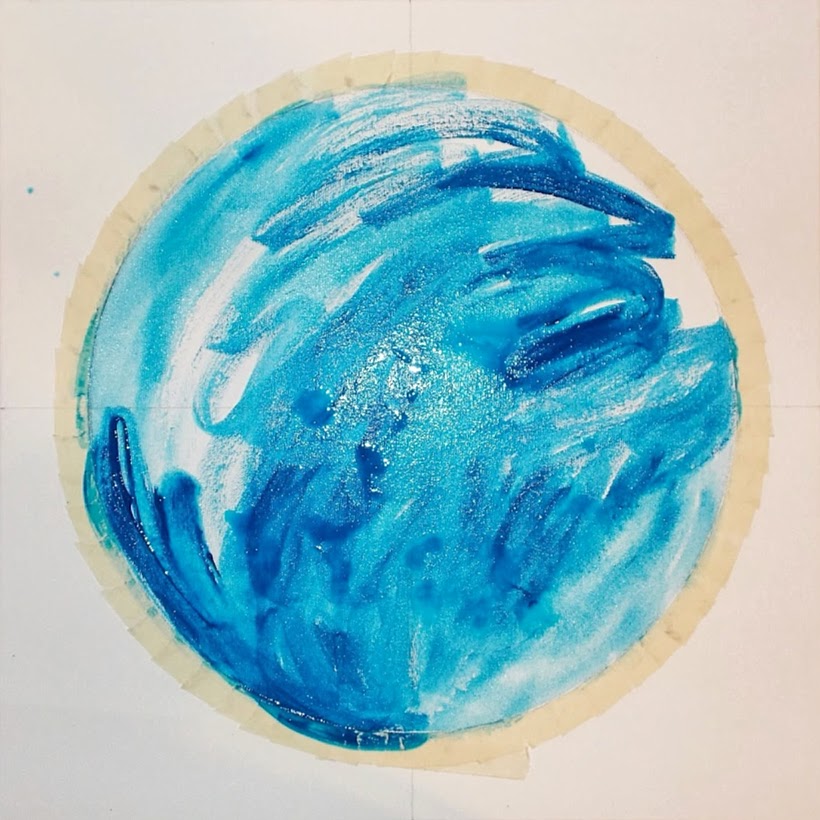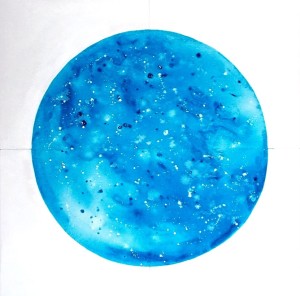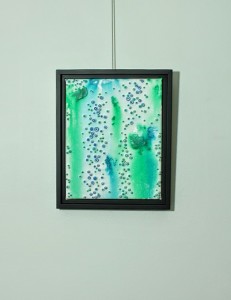 Pacific Reef- For this piece I didn't use a brush at all.  I started with a dry canvas, and added thick spots of paint in random places, many times overlapping, especially with the white.  I used my fingers to flatten and spread the paint as I sprayed the canvas with water. Make sure you've tipped it up so the water will draw the color down the canvas to create that flowing effect, and if you want the colors blended smoothly, make sure you wet the entire canvas.  I have mixed the brands I used with this piece- the craft brands usually spread very smoothly over the canvas, whereas the liquitex or winsor newton brands will spread in different ways.  I love it!
So many awesome ways to use water with acrylic paint to create amazing colored backgrounds!  I'd love to hear how you create your acrylic backgrounds and if you come up with any new techniques for using acrylic paint and water together.
~*~*~*~*~*~*~*~*~*~*~*~*~*~*~*~*~*~*~*~*~*~*~*~*~
Author bio: Author bio:  Anjuli Johnson  is a Mixed Media Artist from Raleigh, NC.  She began her art career as a scrapbooker, and it's been an evolutionary process every since.  She loves all things mixed media- paper, glue, paint, canvas, pens, wire, gears… the list goes on and on.  She is constantly trying to push through her fears to discover and develop her talents, meet new people, and learn from those around her. TheFarPavilion
~*~*~*~*~*~*~*~*~*~*~*~*~*~*~*~*~*~*~*~*~*~*~*~*~
.

.