~ * ~
This aricle is written by Anjuli Johnson
I have become rather obsessed with cloche's and bell jars.  I've started collecting them and using them to display books and things around my house.  I love the vintage, sophisticated feel they bring to any room.  Not to mention, they make me feel like part of a fairy tale (I'm thinking Disney's Beauty and the Beast here, in case you were wondering).  So when I found that Tim Holtz had some mini bell jars in his Idea-ology collection, I couldn't resist bringing home a package.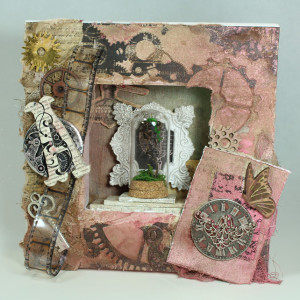 I grabbed a 6*6*1 ½ inch canvas, and turned it around so that I could use the center hole in the back as the display for the cloche.  I wasn't sure exactly how this project was going to come together, so I covered everything with acrylic gesso to prepare the surface and help cover the staples and the transition from the wood to the canvas.  The rest of the process was a step by step decision of which elements to use and where.  To decorate the cloche, I knew I wanted a natural plant type of look, so I went to Michael's to find some moss and maybe some small branches or twigs that would be made for models.  Well, I did find some moss and some small branches of grapevine- they were scattered on the ground, about to swept up and thrown away.  So I grabbed a small handful and asked if I could save them from the depths of the abyss- I didn't even have to ask.  J  And now my mini cloche shimmers with a touch of green and a tiny swirling branch with a hint of moss hanging down.  Perfect!
I love the chipboard lamp and frame in the background that add a dollhouse type of look, especially as the background for the cloche.  Just seeing all these elements come together is giving me lots of ideas for how to use the rest of these mini cloche's to create different types of assemblage pieces. I haven't done much assemblage art, but I'm pretty excited to try some new techniques that could really stretch me as a mixed media artist.
I do plan on framing this with a floating frame to give it a more finished look.  Then it's just a matter of deciding where to display it!
I made a video to showcase the whole process, and I'd love to hear your thoughts!  Feel free to leave comments and links to your own projects with Tim Holtz mini bell jars.
~*~*~*~*~*~*~*~*~*~*~*~*~*~*~*~*~*~*~*~*~*~*~*~*~
Anjuli Johnson is a Mixed Media Artist from Raleigh, NC.  She began her art career as a scrapbooker, and it's been an evolutionary process every since.  She loves all things mixed media- paper, glue, paint, canvas, pens, wire, gears… the list goes on and on.  She is constantly trying to push through her fears to discover and develop her talents, meet new people, and learn from those around her. For more of her projects and techniques check out her blog at www.thefarpavilion.com.
~*~*~*~*~*~*~*~*~*~*~*~*~*~*~*~*~*~*~*~*~*~*~*~*~
.

.