Using Stencils in Mixed Media Art
Including stencils into our mixed media artwork allows us to add a uniqueness to our work without having to worry about creating perfect shapes or drawing the same elements many times over. Stencils make it easy to add shapes and patterns that can be repeated many times across our work. Here we will look at the different types of stencils available and a few of the different techniques you can use them with.
Types of Stencils
1. Make your own stencils
Making your own stencils allows you the chance to create unique artwork and have full control over your creative process. Simple stencils can be made using your own photos; print your photo in black and while onto normal copy paper. Decide which parts of the photo you want to use as a stencil and carefully cut out using a craft knife and self healing matt.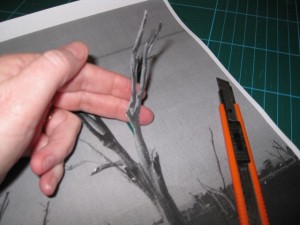 Then your stencil is ready to use. Alternatively you can cut your stencil out of transparent plastic sheet; place the photo or sketch under the plastic sheet. Using a permanent marker, trace the design onto the sheet. Then using the craft knife again, carefully cut our the inner section.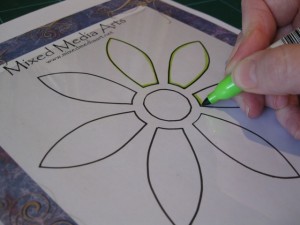 If you cut out carefully, you will have both the positive and negative sections of your stencil. Using a combination of these two shapes provides for interesting results.
 2. Using found objects for stencilling
There are many object you will have around the house that can be used as stencils and masks in your mixed media artwork. Items like paper doilies or lace make clever stencils. Look outside to find leaves, pressed flowers or feathers to use as masks.
 3. Bought Stencils
As stencils become more popular across the mixed media art community, there are a number of ranges of stencils you can buy, both online and in your local craft store – do a quick "google" search to see what you can find.
My favourites include:
 Using your Stencils
To add a layer of stencilling into your mixed media art layout or canvas, you need a stencil form one of the sources listed above, some paint or ink and a brush or sponge. The approach here needs to be to go slow and steady. as we know, that is not always easy when you'd prefer to be throwing layers down but this is one of the techniques that does require a litre patients. And trust me – the effort will be worthwhile as you improve your stencilling skills.
Add some paint to a palette and then a little paint to your brush and test it first to make sure it isn't too wet and globby. Hold the stencil firmly onto your work surface and move the brush / sponge in a circular motion, from the edge then across the stencil then move back again before you stop.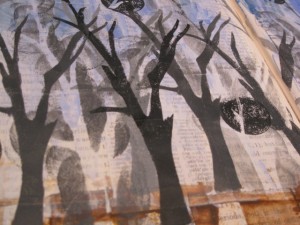 Check your results – if it is too feint, then apply a little more paint and repeat. Adding too much paint will cause the stencil to "bleed" where the paint runs our from under the stencil and your design will be lost. With mixed media art, the feint stencil shapes can add a subtle layer of texture, so start slowly and build.
You can also use impasto medium in a stencil to add a feature to your artwork.

Happy creating!