~ * ~
This article is written by Gail Green
Mixed Media is all about experimenting with interesting (and often unusual) combinations of materials, mediums and techniques. Color, texture, images, phrases, dimension and our own unique interpretation and story make our pieces come alive. It is also about the unexpected. And THAT'S what drives us creatively!
However, that doesn't' mean Mixed Media Artists need to spend hours creating unique components to use in their creative projects. While attending the Craft and Hobby January trade show (CHA Show) and a few other recent trade shows, I've discovered some really awesome new products and product lines that either help us feel the mojo or do the tedious time consuming parts for us…allowing us the freedom to just be CREATIVE!
This article will be the first of several product reviews.
Do you love the look of Shabby Chic? Do you love the look of stitched canvas and embellishments? I know I do! Fortunately, I found the PERFECT line of canvas products at the CHA Show when I stopped by the Linnie Blooms booth! Owner and founder Linda Barutha was EVERYWHERE at CHA. I'm so glad I kept running into her because it offered us lots of opportunities to chat about her product line. Her products are amazing!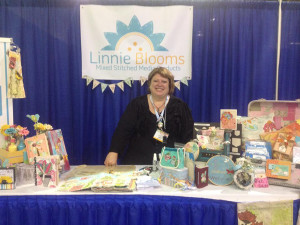 Here is Linda Barutha and just a sampling of her array of products (Photo used with permission, Linda Barutha, Linnie Blooms)
Simply put, Linnie Blooms products include canvas shapes (trees, hearts, leaves, stars, and much more) and canvas items like journals, bookmarks, envelopes and tags with a stitched component already added to them. How cool is this?! They are all ready to paint, sponge, spritz, stamp or stencil. These pieces are also very sturdy so they can hold up to lots of techniques, as well as for their intended use. It's easy to attach embellishments by sewing or gluing because they have a secret in between the canvas layers that prevents glue drip –through…and also makes these products TOTALLY unique! This is definitely a new twist on the concept of re-purposing because recycled encyclopedia pages are part of the Linnie Blooms multiple layer canvas products.
A Mixed Media Art Journal project (Photo used with permission, Linda Barutha, Linnie Blooms)
I personally love all the projects, but the journal is TO DIE FOR! The pages inside include pockets, tabs, stitched edges. They just cry and beg to be transformed into a Mixed Media Art piece!
In addition to all the canvas items, Linnie Blooms also offers other products, including some very interesting stencils. Unlike most stencils, Linda also includes the "knock outs" (or inside cut sections) so mixed media artists can use both the negative space stencils for techniques like sponging, stippling, stamping, etc. AND the positive space "knock outs" to create masks for those same techniques…but with obviously different results! Plus, the shapes are so unique, they can be used very interpretively in multiple ways and combinations.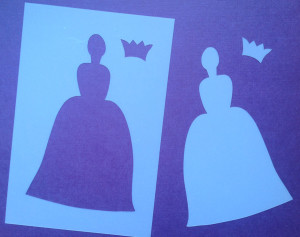 This photo shows a stencil with all the different components…both stencil and knock outs! (Photo used with permission, Gail Green)
As if that weren't enough, Linda has also come up with fun stamps and phrases to use on the canvas pieces, as well as on traditional cardstocks for card making. For example, create a card on cardstock and then….insert it into an over-the-top-cool canvas envelope that has been turned into a Mixed Media work of art! Did you know that rubber stamping originally started as a way to decorate mail and envelopes? Now that you do, isn't this a perfect way to go a little retro and celebrate the roots of stamping? After all, Mixed Media Art is ALL about TOTAL fun and creativity!
Linnie Blooms Canvas Bracelet is the perfect start to a Mixed Media project!(Photo used with permission, Gail Green)
You can find out more about Linnie Blooms by visiting their website www.linnieblooms.com. But know they are a lot like potato chips. You will never be able to just have one!
~*~*~*~*~*~*~*~*~*~*~*~*~*~*~*~*~*~*~*~*~*~*~*~*~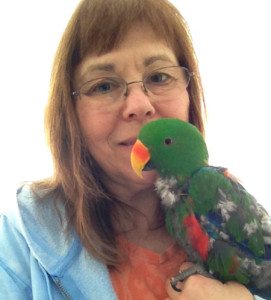 Gail Green is a Chicagoland crafty book author and feature article writer/columnist for Scrap & Stamp Arts magazine. Known as the "designer in the hat" and creator of the Sweet PETatoes® art brand, Gail has licensed her illustrations on products in multiple global markets, including her own line of rubber stamps with Impression Obsession. For more information, please visit her ETSY store sweetpetatoes.etsy.com or blog gailgreen.blogspot.com for fun adventures with Ollie, Gail's crafting parrot and his pet doggie, Lacy Lulu.
~*~*~*~*~*~*~*~*~*~*~*~*~*~*~*~*~*~*~*~*~*~*~*~*~
Disclosure: These products were supplied by Linnie Blooms for the purpose of review. All opinions are that of the MixedMediaArt team. Some links on this page may be affiliate links and any purchases help to support the ongoing work by MixedMediaArt. 
.

.