Imagine Crafts distribute craft products and the Tsukineko products across the USA and when I was approach to review some of their products, I jumped at the chance! The first products put to use are the Fireworks sparkly sprays.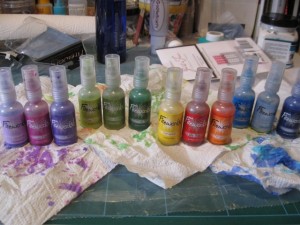 Each set of three comes in a range of colours that work well together. The purples and pinks fought my eye first; this is called the "Juicy Purples" set.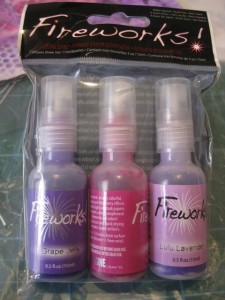 The sparkle settle in the bottom of the bottles, so they need a good shake to get them mixed properly.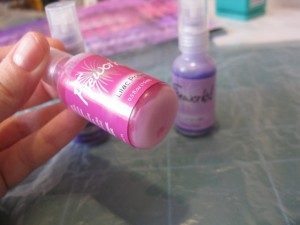 I had an art journal layout already prepared in pinks and purples (with left over paints from the Creating Layers tutorial canvases). I added some stamping in Jet Black Stazon and impasto medium through a handmade stencil.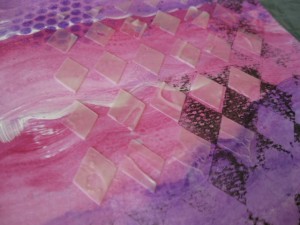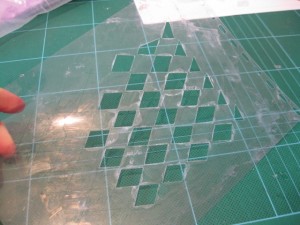 Firstly I sprayed the dark purple, then the light purple and then the pink. I lifted the stencil carefully and let the spray dry. I "mopped" the extra ink from the stencil onto a sheet of watercolour paper.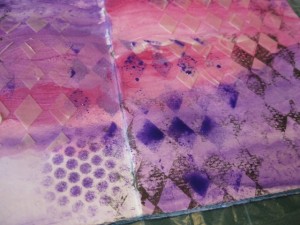 Here is the final  art journal background, with the three colours used separately.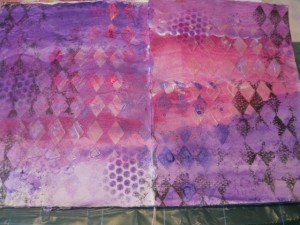 Next I got out the blues from the Ocean set and used another handmade stencil with arrows, on a prepainted art journal layout.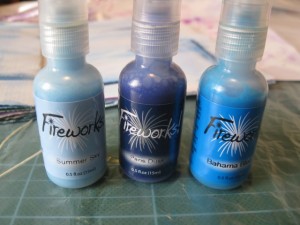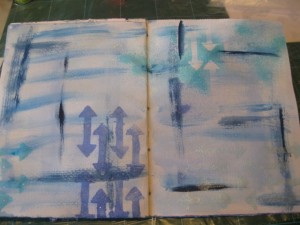 The warm colours got sprayed randomly on a sheet of water colour paper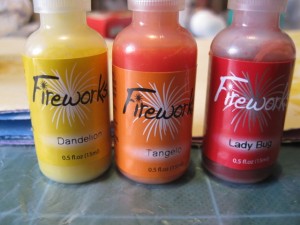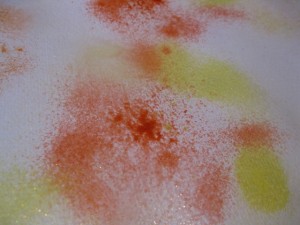 By this time I had lots of messy stencils and art journal, open and drying, and I still hadn't tried the greens.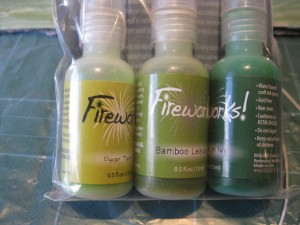 I wasn't really happy with the spray results so far; a little glitter goes a long way in my books. So I decided to go all out and use all three colours together over a bought stencil.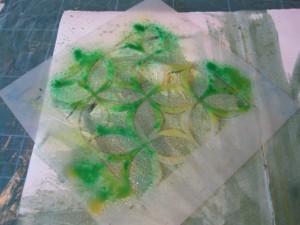 And guess what!!! I really liked the results!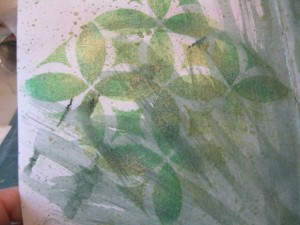 It brought back memories from the GPP Street Crusade days, when Michelle Ward helped us realise that one colour is boring! You think I would remember such a simple lesson like that, but I am always so cautious when it comes to mixing colours that I often forget until I "accidentally" do something like this and see the results really come to life!
So now my enthusiasm was renewed and I returned to another art journal page with the purples to see what I could create with more abandon than originally used.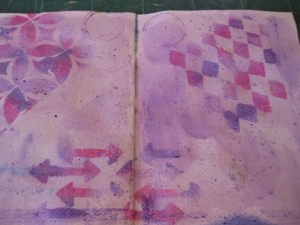 With the "mopped" water colour paper sheets, I made them into another art journal. On one page I coloured over the sprays with Twinkling H2Os and the colour didn't run or loose it's sparkle. I added shapes and words with markers, as well.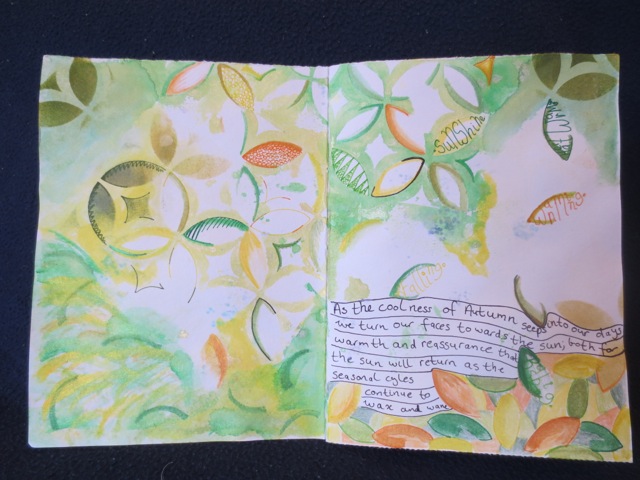 Here's what I did with the original purples layout
I had a chipboard butterfly that I then sprayed with the purples, as well as some raw chipboard flowers.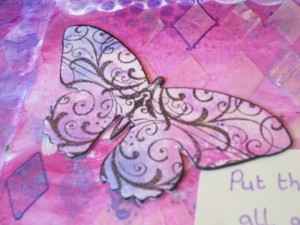 What I liked about the products:
Loved the colour sets and their ease of use, especially with stencils. They dried within a few minutes and dried on impasto medium and varnish. Once they were dry, they could be written on with markers or coloured over with pencils or Twinkling H2Os.
What I didn't like about the products:
As with most sprays, it tends to cover a big area, so make sure you mask any area you don't want to get sparkles on. Also the packet said to "clean the nozzle" but I didn't want to run the whole bottle under water and I could't remove the top bit,so I hope they don't clog!
I also sprayed samples into my Art Journal and they went through the paper, onto the page underneath, so take care with that. Some scrap paper underneath would have helped!
~ * ~ * ~ * ~ * ~ * ~ * ~ * ~ * ~ * ~ * ~ * ~ * ~
Disclosure: These products have been provided by Imagine Crafts  for the purpose of review. All opinions are that of the MixedMediaArt team. The links on this page are affiliate links and any purchases help to support the ongoing work by MixedMediaArt.