.
Today we are reviewing Art at the Speed of Life by Pam Carriker. Published by Interweave Press 2010
Overview of book:
In Art at the speed of life, Pam has outlined how to fit our creativity into our busy lives. She, along with 18 contributing artists, present mini essays on different aspects of this; narrowing down our supplies, setting limits with computer time, giving ourselves permission to create rather than work/clean/other tasks.
Each of the 7 chapters contains a range of these essays, along with a contributing artist project. Pam then uses these project prompts to create a simpler method to produce similar results. Each of these projects are lovely and continue in Pam's usual style of rich colours and multiple layers.
Favourite part:
There are two elements of this book that will stay with me and I have already adopted into my creating:
1. the first is making your own art journal from a large piece of watercolour paper. I had a lot of fun making my first two and have already bought another two sheets of paper to make a few more. The idea of using any leftover paint or ink on a stamp while having it out to add colour to this journal is a great idea. But I do need to do this with conscious effort; at times I am so focused on my main artwork that I move through the layers, rather than pausing to add colour and layers to the journal. I will continue to practice.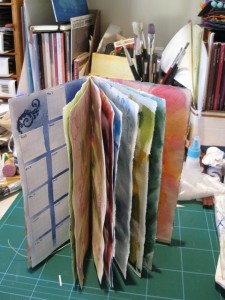 2. the second aspect is to be working on more than one piece at a time. I have tried this with two pieces and found that it work okay but I still find the disruption between pieces a little frustrating. Now I have three bland canvases, ready for a larger project.
Least favourite part:
For a couple of the projects, I felt there could have been a few more photos to accompany the steps. Some needed re-reading a few times to understand the process being used.
Overall recommendation:
I would definitely recommend this book. Each section is easy to read and the projects are a good range of mixed media art techniques.

~ * ~ * ~ * ~ * ~ * ~ * ~ * ~ * ~ * ~ * ~ * ~ * ~ * ~ * ~ * ~ *

.