Today we review the mixed media painting book "Acrylic Solutions" by Julie Prichard and Chris Cozen. It's published by North Light Books 2013. It includes everything you need to get started with acrylic painting, both on canvas and a range of other surfaces. The book will also provide the experienced artist with the "why" and "how" paints and mediums behave as they do, as well as a variety of techniques. These are all pulled together to work through a series of lovely paintings.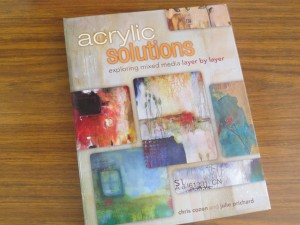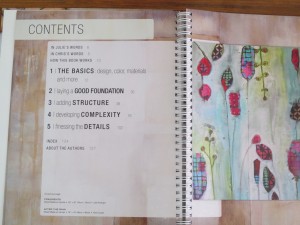 And the WINNER of the Acrylic Solutions giveaway is ….
Elena Manali, from Athens Greece
ELENA MANALI says:
Hello! I started using acrylics the last ten months.I was afraid of using them but since I made my first trial I was amazed with that medium! So many colours and the texture and the depth I can give in my mixed media collages I feel like I am hand building as a sculptor! I would be very happy to win a copy of the Acrylic solutions and I am sure that it will lead me to new paths in my work!
Elena,
Athens Greece
Thank you all for your entries!
~ * ~ * ~ * ~ * ~ * ~ * ~ * ~ * ~ * ~ * ~ * ~ * ~
~ * ~ * ~ * ~ * ~ * ~ * ~ * ~ * ~ * ~ * ~ * ~ * ~
Disclosure: This book has been provided by North Light Books for the purpose of review. All opinions are that of the MixedMediaArt team. The links on this page are affiliate links and any purchases help to support the ongoing work by MixedMediaArt.