If you've ever wondered what it's like to create something wonderfully arty using paint and a gel plate,
then this class is for you!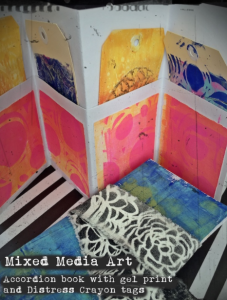 The well-known local artist and craft tutor Teresa Abajo will help you create your own one-of-a-kind backgrounds as you learn lots of mixed media techniques with gel plates, paint, stencils, Art Foamies stamps, Distress Crayons and more.
You'll create an accordion folio that holds tags with samples of all sorts of techniques.
A kit with everything you need will be provided.
Requirements:
Protective gear (apron – and perhaps gloves unless you're a true artist and proud of it!)
Bring a gel plate (but only if you already own one – we will have some for you to share in class)
Everything you need will be provided.
Date & Times:
We are running the Accordian book class over three sessions at Paperific 2017.
Please choose your preferred session and book below, by clicking on the Buy Now button;
you will be redirected to the Papercraft Events Paypal page to complete your registration.
Friday, 25 August 2017, 1:00 P.M. – 2:30 P.M.
Saturday, 26 August 2017, 1:00 P.M. – 2:30 P.M.
Sunday, 27 August 2017, 1:00 P.M. – 2:30 P.M.
NOTE: Class cost doesn't include entry to the Paperific show
You can purchase your Paperific tickets online here or at the door
10 crafters per class
About Teresa Abajo
Teresa Abajo is a fabulous mixed media artist, based in Melbourne Australia. She generously shares her broad knowledge of mixed media  with her fellow crafters in all of her classes, and is a patient teacher.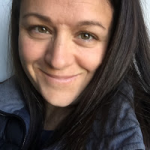 Teresa's work has been published in many Australian papercraft magazines, including Love Cardmaking, and she is currently on the design teams for:
As well as teaching regularly with Mixed Media Arts and Little Bits.
You can seee more of Teresa's work on her blog The Tamarisk or Facebook page
 About Paperific
Paperific is on August 25 to 27th at the Melbourne Showgrounds. It attracts exhibitors and visitors from across Australia, New Zealand and beyond, providing retail products, classes and free demonstrations to the general public. Every expo is a showcase for a wide a range of papercraft retailers. Of course, because of their popularity, scrapbooking and stamping are always particularly well represented.
Their motto is "Heaven on Earth for Papercraft Lovers!" – that's what you can expect from the Melbourne Paperific Expo. Make sure you set aside a full day (or even two or three!) to come along and enjoy the show.
For more information,  jump over to the Paperific website.