We hope you have as much fun with this background technique as we did. Here is the final background:
We would also love to see your work – the backgrounds you have created with this technique and the work you have made using the background sheet as a starting point. Leave a comment below and a link to your blog, showing us your artwork. Please make sure you point us to your post with the artwork, not just your blog in general.
If you want your own copy of this technique sheet, it is now available tor immediate download!
$2.97
Here we create a simple background with many layers to add texture and visual interest to our Mixed Media Art piece, even before adding the collage elements. These techniques can be used with different colours to create all sorts of backgrounds.
My final mixed media piece;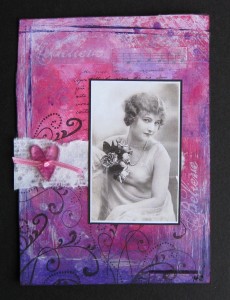 So get creating!
…