This article is written by Linda Giese
The process and materials for this page spread are fairly easy, but when people turn the page and come upon it, they often say,"Wow!"  It is bright and active with a lot of pattern and color.
Materials & Tools
Americana lamp black acrylic paint in the bottle(not tube paint)
3-5 different sheets(I used some scraps) of origami paper.
Scissors
Small punch like heart, flower or star
Aleenes tacky glue (or other white glue)
Sakura metallic gelly roll pen set, 10 count.
[Ignore my note on the package, "can't mod podge over".  You can work over the pens if you let them dry completely first.]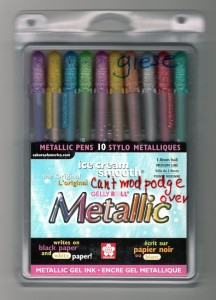 Technique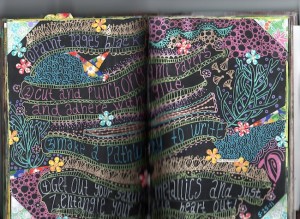 1. Paint your page spread with black acrylic . Let dry.
2. Cut and punch origami paper and adhere with glue. Origami paper comes in two styles.  The washi papers are more expensive and have a toothy, fibrous texture.  The less expensive papers are like thin wood pulp papers.   For punches the less expensive papers work better.  I used washi for the corners and some cut papers.  I tried to spread the colors around the page with some of the flowers going off the edge.  This way you can punch partial flowers along the edges of your papers to use every pretty bit of them.  I apply a small amount of glue with a toothpick so I don't get it on the other parts of the background which makes the surface better for the pen work.
3. Draw a pathway (or several of them) with one of your pens to contain your writing.  You can write a favorite quote, something you want to say, or perhaps about your joy in creating art.  I used words I had chosen on the page spread (before I painted with black) to tell me what to write.  One page had the words "the technique" and the other "between two extremes".  On the technique page I drew the parallel lines over half the page spread and expanded them as needed.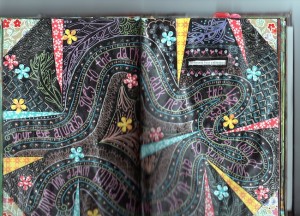 On the extreme page I wound my lines across both pages and turned and came all the way back across. I used my spears of origami paper to help find the route.  My words happened to cover it all.  I don't preplan, just start writing, but if they hadn't filled the space, I may have filled in the line with stars or other symbols.  I don't really stress over it.
4. The last part is all the fun.  I usually begin with borders along my lines.  These can be as simple or elaborate as you like.  Then I start to fill in areas with my favorite zentangle patterns.I try to repeat patterns in different areas and to repeat colors in the same way.  This helps move your eye around the composition.
There are wonderful zentangle books and many online sites for patterns.  Zentangle was created by artists Rick Roberts and Maria Thomas.  Their website is www. zentangle.com  Other sites I like are www.LifeImitatesDoodles.blogspot.com and TanglePatterns.com
Finishing
I put a coat of gloss varnish over the extreme page spread.  Although I like the look of acrylic paint with varnish over it, I think it detracts from the brightness of the metallic pens.  The technique page has no finish on it.  I hope you have as much fun as I did with this page spread.
I encourage questions and comments!
Hugs to you,
Linda
~*~*~*~*~*~*~*~*~*~*~*~*~*~*~*~*~*~*~*~*~*~*~*~*~
Linda Giese encourages comments, questions, and sharing your art journey at linda.giese@yahoo.com
She teaches classes privately and at a local scrapbook store, The Stamp Addict
~*~*~*~*~*~*~*~*~*~*~*~*~*~*~*~*~*~*~*~*~*~*~*~*~
.