Trudy Thayer is a regular contributor to Mixed Media Art and here she shares her story of how she discover the inspiration behind these Zentangle sketches.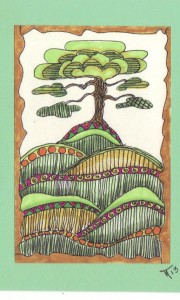 ~*~*~*~*~*~*~*~*~*~*~*~*~*~*~*~*~*~*~*~*~*~*~*~*~
I found zentangles when I was searching for something else online.  They instantly captured my attention with the detail and colors.  I find the level of concentration extremely relaxing  and try to better my skill daily.  I have lots of stencils and some of the art I've seen using this is out of this world.  I also use some ideas from these in my quilting and fabric art.
I use Micron Ultra Fine point for hair-like tiny tiny work; and Micron Fine for most outlining.  I get my paper in the kids craft section of the stores, a pad with three different types of papers is really cheap and the quality is fine for what I do.  For coloring I use Bic "Mark it"s. The tip is a bit on the fine side which I love.  I use colored pencils for shading and to fill in and make the color seem richer and more full bodied.  And yes, yes, yes…..this is so "zen-like" .
You can read more about Zentangles here
~*~*~*~*~*~*~*~*~*~*~*~*~*~*~*~*~*~*~*~*~*~*~*~*~
Trudy Thayer is a 65 year old mom, gramma, veteran, and late-in-life college with a BFA  specialty in graphic design. She lives in Vancouver, Washington and loves the area and the artistic stimulus that abounds there.
~*~*~*~*~*~*~*~*~*~*~*~*~*~*~*~*~*~*~*~*~*~*~*~*~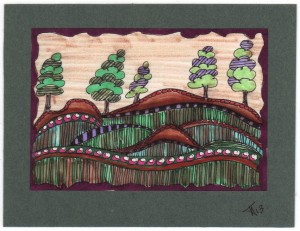 .

.