Trudy Thayer has found a way to use up those "tidbits" that you have lying around, along with a few found objects to make this little wall hanging.
"It's a 4 1/2″ wall hanging," Trudy tells us.  "I use found objects, here the twig and feather,  left over yarns, and beads or beading.  Plus some quilting."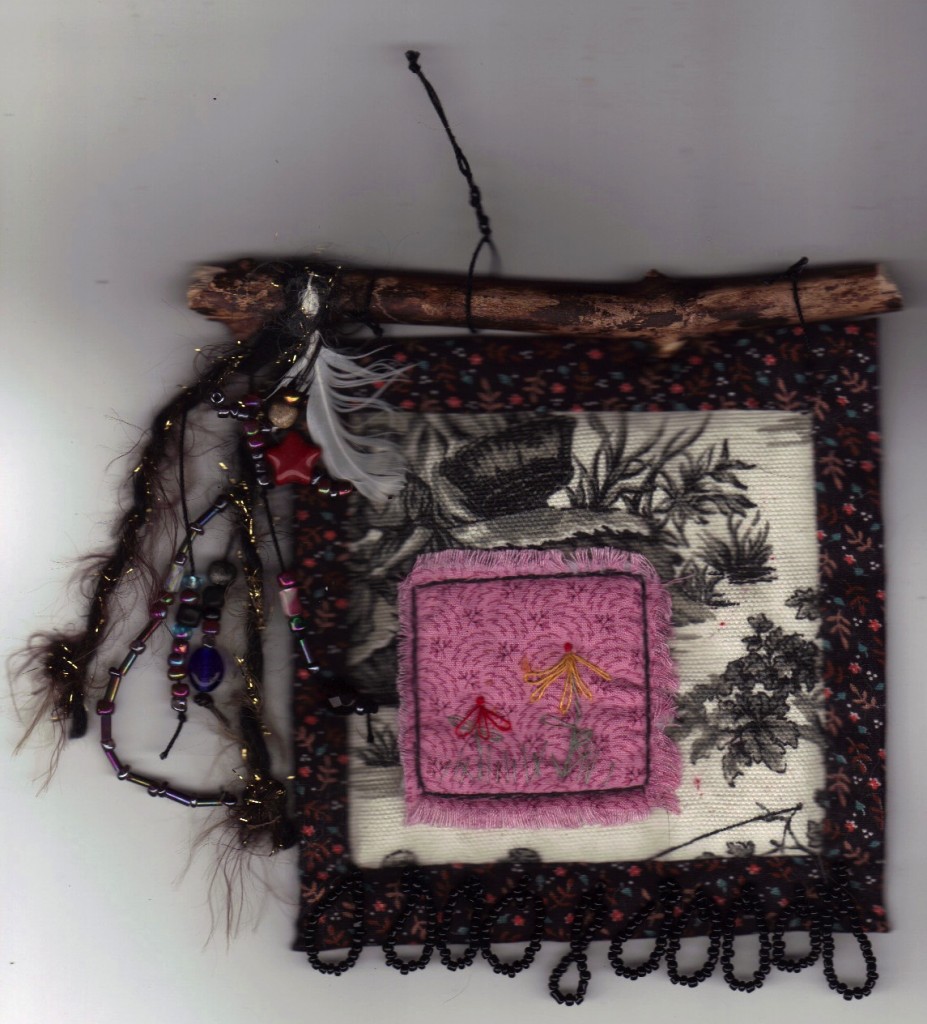 Trudy sells some of her craftwork at local markets and she saves these tidbit wall hangings for kids to purchase for their friends and family when there is  an upcoming birthday, other event and the holidays.
"I only sell these to kids; I feel strongly it's important for them to have the opportunity to buy special things on their own," says Trudy.
To make your own Tidbits wall hanging, gather up scraps of material and arrange them into a mini quilt, about 4″ square. You can add batting into the inner layers, if you have it on hand. Sew these layers together using a sewing machine. Here you can also sew on features and trimmings.
Attach the stick to the hanging at the outer edges, using a needle and thread. Add a thread hanger in the middle of the twig, so your wall hanging can be hung. Add beads and other threads to complete the design, tucking in the feather as you go.
~ * ~ * ~ * ~ * ~ * ~ * ~ * ~ * ~ * ~ * ~ * ~ * ~
Trudy Thayer is a 65 year old mom, gramma, veteran, and late-in-life college with a BFA  specialty in graphic design. She lives in Vancouver, Washington and loves the area and the artistic stimulus that abounds there.