This article is written by Gloria Malouf-Marsh
For this painting, I would like to introduce you to two artists, though years apart, have found, that this painting has made an indelible impression on them both.
The Return of the Prodigal Son is an oil painting by Rembrandt Harmenszoon van Rijn (1606-1669). It is among one of the Dutch master's final works.  The highlight of this story describes the impact the moment the Prodigal Son returns to his father and the consequences that unfold. The story is about two sons of a rich man. The youngest one asks his father for his inheritance. He leaves home and squanders all his money and returns home penniless and asks for his father's forgiveness. His father welcomes him home with open arms.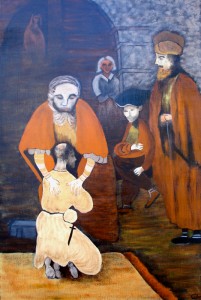 This painting evokes mood, human compassion and shades of light and dark were used often in his style of painting. The symbolism used here is of a homecoming and this ignites the compassionate heart to offer those who have experienced brokenness and darkness in their lives to be  loved and accepted.
Henri Jozef Machiel Nouwen (1932 –1996) was a Dutch-born Catholic priest and writer who authored 40 books about spirituality. Among his subjects he studied were theology, and psychology. He discovered the connection were related and this took him on a personal journey. This lead to his becoming a lecturer in pastoral theology, and an academic. During these times they were fruitful for him. He had a strong relationship with his mother.
The above two artists drew parallels and similarities of their personal lives and brought it to life in painting and writing about the story. The most poignant point I  see is that the father is forgiving, loving and welcoming his son with open arms and  compassionate love.  Looking at the picture one notices the father's large hands embracing his long lost son – this symbolises the maternal instinct. The father's hands were welcoming the son. The left hand was larger that the right one
The first impression I get when I see this artwork evokes a sense of darkness, complexity and symbolism.  But this didn't deter me from attempting one of Rembrandt's most cherished art pieces.
I used gesso to seal the canvas followed by a coat of burned umber. I sketched the top arch and faintly sketched the outlines of the figures. The father's cloak and the cloak of the older son where painted with a mix of cadmium orange and ultramarine blue. It was difficult to paint the two figures faintly. I didn't want them to stand out but still wanted their outlines seen. There were shades of gold, yellow, orange and brown scumbling and I used the deer brush to daub the mottled brown/opal/grey, giving the motley effect around the top right side of the canvas.
The Prodigal son was difficult to paint with a mournful side face and kneeling facing his father.
The painting was a mammoth challenge and took me on a personal journey of a deeper understanding of the characters in "The Return of the Prodigal Son". The characters being the father, the older brother, the Prodigal son, the mother figure, and the maid servant in the distant background, (these two characters are thought to be) and the tax Collector (The Pharisee) sitting down garbed in his rich garments. I only knew of an overview of the story, but until I tackled this painting did I discover the true meaning of this painting.  In writing this book, Nouwen reflected what homecoming, and reconciliation was all about in his life.  There was a similarity of parallels used with both Rembrandt and Nouwen in painting and writing the story, using their life experiences of loneliness, dejection, jealousy and anger which assisted to complete the real story. The book is thought provoking and if you want to go on a deeper search and personal journey in your own life – Rembrandt and Nouwen make it easier to understand the parable of 'The Return of the Prodigal Son".
This work has been a challenge for me in drawing the characters and some barely visible. I agonized over the finished work, whether I could do more and better. This painting took me over 6 months to finish.
Keep creating; you never know what your capabilities present.
Thanks to Michelle from Mixed Media Art for giving me the opportunity for sharing my creation of artwork.
Keep Creating! Enjoy!
Emails are welcome
~ * ~ * ~ * ~ * ~ * ~ * ~ * ~ * ~ * ~ * ~ * ~ *  ~
My name is Gloria Malouf-Marsh. I live in Brisbane, Australia, with my husband Greg and my daughter Salwa .  I rise early and go for brisk walks, do my yoga practice and I'm inspired to face the day with inspiration and confidence. I get creative ideas for painting when I'm in nature. I love listening to nature's sounds and watching and hearing the birds.
I am developing discipline in creating and making time for myself to daily paint. I seem curious to want to further my techniques.  I'm working with the building texture  mediums.  A sense of confidence and enjoyment has developed with me regarding honing my skills and techniques in the art medium, and I do enjoy this website so much.  Hearing peoples' ideas and seeing their talents, just simply amaze me.  It is a special global family.   If I can create, so can you! Enjoy!
Emails are welcome at Gloria@radiantpathways.com.au
.

.